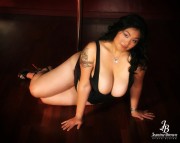 Confidence is SO sexy. Look at these beautiful, confident women! These women are the winners of our first ever Sexy at Any Size photo contest and were all photographed by the fabulous Jeanine Brown, boudoir photographer extraordinairre.
Like most women, I have been brainwashed by the media to think that you have to be a size 6 to be beautiful, sexy and valued in our society. (A good friend of mine has been telling me NOT TO BUY what the media is selling for years! He is so right!)  I work every day to accept myself, my curves, my rolls and ignore the negative messages. It shouldn't be SO MUCH WORK, though.
Personally, I have been overweight since the 3rd grade so I am pretty use to all of the messages and all of the negative self talk it can create. I could cry when I see girls who are 7 or 8 years old worrying about their weight and talking about diets. It breaks my heart that these young women do not understand how PERFECT they are. I wish 7 or 8 year old girls could just be oblivious to all of those messages and just BE. Just be little girls and feel totally LOVED unconditionally. (It's hard, too, when every other word out of their Mom's mouths is about their own weight. Or every magazine their Mom reads has a story about diets. It's just everywhere. They can't escape the messages.)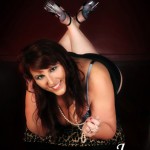 I was lucky, when I was young and impressionable, I only received love and acceptance from my immediate family. (I had some a-hole cousins and second cousins that tried to make me feel bad about my weight – but I tried hard to ignore them.) My Mom raised me to believe I was beautiful exactly the way I was and that NOTHING could hold me back.
Honestly, sometimes I forget I am overweight until someone reminds me. But, I am 43 now and I have learned to SIEZE THE DAY and ignore the haters. The only opinions I care about are the opinions of the people I love. Everyone else can BITE ME. Yes, I need to exercise more. ALOT MORE. Yes, I need to improve the food I use to nourish my body. Yes, I need to be healthier. But, you might be surprised to know how healthy I am. And, yes I am what doctors call obese. But, my blood pressure is good. My cholesterol is low. My blood sugar levels are fine and my bones are off the chart dense! (Remember the term "big boned"?  That, apparantly, is true! I just had my bone density tested and it made me laugh when the person administered the test asked me what my diet consisted of. I told him cheerios, milk, cheese and spinach. Unfortunately, in that order.)
About 8 years ago and I had one of the MOST eye opening experiences. I got invited to an event called Big Boogie Nights and it was what I affectionally called a "phat dance."  All of the people at this bar were there because they were FLUFFY / PLUSH / FAT / PHAT / CURVY or because they ADMIRED fluffy, plush, fat, phat, curvy women. YES! An entire nightclub filled with men who ONLY dated big, plus sized women. It was amazing!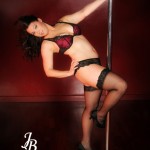 From first hand experience, I knew there were a lot of men who really loved curvy women but I had NO IDEA how many there were. This club was filled with all kinds of men. Some were tall, some were short, some were super skinny, some where big guys, and they were every ethnicity under the sun. CRAZY beautiful. All of the women (including me) were THE EYE CANDY at this club. Talk about a surreal life changing experience. I had no idea so many men were attracted to curvy women.
This sexy at any size photo shoot gave us the opportunity to make these three women see what EYE CANDY they are. They are not size 2, but look at how beautiful they all are. Perfection! It was so much fun watching these gorgeous women get transformed in the make up and hair chair. And the real GIFT was watching Jeanine working with the women. IT was so fun to watch Jeanine make all of our gorgeous models feel comfortable  in front of her lens – half NAKED! Jeanine put them at ease right away and taught them each poses that would highlight their best assets. (And you really have to read Jeanine's blog so you can learn all about her journey with her own self image.)
If you would like to read each of our model's stories and see why we chose their stories, you can go my Bliss blog and read them. We asked the question "what makes you feel sexy at any size" and they responded with their own stories about their self esteem and their own weight. They are SEXY AT ANY SIZE! You all are. You are perfection!
BIG THANKS TO Lisa at www.GetHairExtensions.net for the super sexy hair and for donating her time to help us make our models smoking hot!
Another big shout out to Jeanine Brown, founder of www.JBrownPhotography.com and www.JBrownBoudoir.com for the beautiful pics!
If you'd like to keep in touch with any of us, you can find us all on Facebook, too. My bliss fan page on Facebook is www.Facebook.com/BlissConnection