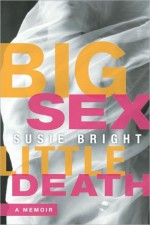 Susie Bright is going to be on Better Sex Radio on April 20th. WOOO HOOOO!  I was on vacation in Santa Cruz recently and saw that local celebrity author and sex educator Susie Bright had a new memoir out called "Big Sex Little Death."  I bought it instantly of course. I also saw in the Santa Cruz weekly called "Good Times" that she was going to be signing her book at the Book Store Santa Cruz while I was on vacation. Unfortunately, I could not make it to the book signing to meet her, shake her hand (maybe give her a hug) and get her to sign my book.
You gotta love the power of social media, though. She is my Facebook friend and when I got home from vacation I happened to see one of her posts on Facebook and I commented and told her I had really wanted to go to the signing, but could not. Then I asked if she would come on my show and podcast "Everyone wants to have Better Sex" and she immediately told me how to get in touch with her publicist. Yaaaaaaaaaaaaaaa!  The next day… viola! Susie is booked on my Better Sex radio show and podcast. ( www.BlissoniTunes.com )
If you do not know who Susie Bright is, in my mind, you must be hiding under a rock! Maybe you have heard the name "Susie Sexpert" or know her from all of her fabulous books or her blog. Susie is an author, sex educator, feminist, performer and a VOICE to be reckoned with. Plus, she is a Bay Area (Santa Cruz) native!  She's a pretty big deal and if you don't believe me, will you believe the Wiki? (Susie Bright on the Wikipedia.)
I personally was first introduced to Susie's books when I became a half partner in an adult store called Magical Moments in Sunnyvale. After I got laid off in 2002, I kicked off my career into the ADULT world of pleasure parties and owning a sex toy store for two and a half years. My partner was a big fan of Susie's books and she had Susie's erotica  and Sex Wise on the shelf. I have admired her entire body of work since 2004 and think she is really a local hero – rather then celebrity.
I'm really excited to "meet" Susie and talk with her about her new book "Big Sex Little Death" and also learn more about her workshops and seminars she offers here in the Bay Area. Plus, we will see if Susie will share with us her favorite sex toys, too!
Tune in live on April 20th at 11:00 a.m. and you can listen live at www.BlogTalkRadio.com/BlissRadio or watch for the podcast on www.BlissoniTunes.com after the 20th.