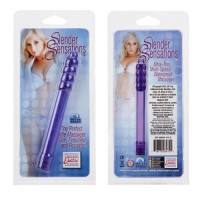 Hi there,
I wrote a blog for Your Tango called  "Sex Toys for  Newbies. 5 Sex Toys that are Perfect for Beginners and here is the Your Tango link:   " http://www.yourtango.com/experts/sex-expert-chrystal-bougon/sex-toys-newbies-5-sex-toys-perfect-beginners "
What I thought we could do is to give away some of these Perfect Sex Toys for Newbies!
If you will go and make a comment on my Your Tango article, I will give away 5 of the Slender Sensations that I mentioned in this blog article about sex toys.
The Slender Sensations toy is SUPER discreet and if you take the batteries out, even your friendly TSA guy will NOT know it;s your vibrator. I love this
toy for it's simplicity and how quiet it is. And, most importantly, it is VERY strong and gives very concentrated vibration directly to the clitoris. (It's got the power from the two  triple aaa batteries! )  It's almost like a pen. So, it slides between two people very easily and since it's cordless, it's very easy to use alone or together. This little toy packs a punch, too. You will be suprised by how quiet this VERY strong vibrator it! Great for people who want a sex toy that is quiet and discreet and that you can travel with easily. Also nice if you have roommates or don't want your kids to hear you using your vibrator.
Super simple. I need some BLOG LOVE on my Your Tango article  so if you would go there and comment, I will say THANK YOU on your blog comment and will ask you to email me your shipping address so I can ship you a free Slender Sensation vibe. Easy peasey! Thanks!  Here is the link again to my blog called "Sex Toys for Newbies" on Your Tango. Thanks for your help and enjoy some Bliss from BlissConnection.com!
Blissfully, Chrystal Bougon
Please "LIKE" us on Facebook.   www.Facebook.com/BlissConnection
p.s. If you want to read something a little naughtier about the Slender Sensations sex toy, you can read a blog by one of our sex toy bloggers "Lexi" that wrote a sex toy review of the Slender Sensations toy.