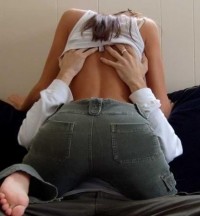 In my opinion, it is possible to have hot monogamy. It does take work and creativity, but you can do it. It's just like anything else. If you commit to doing it, it will happen. If you make it a priority, it will happen. And, I personally believe that is partially why the mommy porn book "50 Shades of Grey" is so popular. the women reading it are turned on by all of the hot and kinky monogamy. (And here is another blog we wrote about 2 years ago with a similar subject. Smokin hot monogamy with Cory Honickman.)
Communication is what leads to hot sex. Talking with your partner – or if you're too shy – texting or emailing with your partner can lead to some crazy, inspired, hot sex. Even if you have been married for 40+  years. (And there are enough studies that prove having lots of sex keeps you young, so get busy getting busy!)
I have heard from couples who read naughty excerpts from their old penthouse magazines. (Remember, women are AURAL men are VISUAL.) Recently I heard from a friend of mine who highlighted all of her favorite NAUGHTY parts of the 50 Shades trilogy and she has her husband read them to her to get her all worked up. (They've been married for over 30 years1)
Other couples sometimes try to write screenplays for adult movies and they share them with each other via email. Other couples will text each other dirty flirts all day long. (Ever listen to Sara & Vinnie on Radio Alice? They talk about that on occasion.)
The important thread here is that the couples who do this well do slightly naughty or very naughty things together to see which sticks and which turns each other on. They are always a YES to ideas in their bedroom and never make the other partner feel judged when they suggest these naughty ideas. And, reading a magazine or a book together gives you each permission to use langauge and intonation you might not normally use with each other. Let's face it. Being together with the same person for a LOOOONG time does breed some disconent and I will call it what it actually is – BEDROOM BOREDOM. We all suffer from it at one time or another.
Maybe you spent the first 20 years NEVER talking dirty to each other. Well trot it out and see how it makes you feel. Give each other permission to say the naughty things you have never said to each other. Just because you like being called a "slut" or other dirty words does not MAKE you that dirty word. And, it does not mean he thinks you are a slut. Just a slut to his penis. I think he will be agreeable to that idea.
Maybe you NEVER ever tried using a toy together because everything works great au naturale and why would you mess that up? Um, because sex with the same PENIS for 20, 30, 40 years gets tedious. Add a $7.00 vibrating screaming orgasm cock ring to your play and suddenly you have a BRAND NEW PENIS to play with. Remember when everything was new between the two of you? Fresh? Unexplored? Well, you can bring back that energy when you are both excited about trying something new together. You will feel like newlyweds when you are waiting for your shipment to come in or when you are browsing an online store together in your bed. (Shameless plug here – I hope you will grab your iPad or laptop and browse our online store BlissConnection.com together, but any of them will work!)
And, like Ghandi, you have to be the change you want to see in your bedroom. Seriously.
A customer emailed me today to say this:  "Chrystal. You were so right. I just spelled out exactly what I want to my husband of 26 years. He was on board right away and didn't bat an eyelash. He is so grateful to you that you gave me the extra bit of courage to spell it out for him. He is more then willing to try everything I spelled out. And, some of it I learned about in "50 Shades". Thank you!"
Communication is SMOKIN HOT!
If you like our style, I hope you will like us on Facebook    www.Facebook.com/BlissConnection
If you want to shop our online store, our blog readers can use the coupon code BLOG for 15% off   www.BlissConnection.com