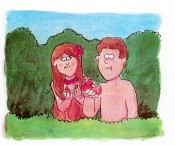 I bet you have lots of fantastic stories and interesting questions you are sometimes dying to ask on Facebook, but you just can't because your friends, Mom and co-workers read your posts! I would like to introduce you to AlwaysEden.com which is a very cool website designed as an anonymous Social Media site for sharing relationship and sex advice / tips.
This is from the AlwaysEden.com website:
Our community is focused on sharing relationship experiences and helping you strengthen the emotional and physical bond you have with your partner. Come talk about things you may not want to share on FB.
I am very excited to have "Adam" and "Eve" from AlwaysEden.com on my Better Sex Radio show this week and they are going to tell us more about the AlwaysEden.com mission and we will do some fun Q & A based on questions and interactions they have had with their anonymous users on their site.
Tune in Sept. 15th at 11 a.m. to http://www.BlogTalkRadio.com/BlissRadio or submit your questions here or on AlwaysEden, and we will try to get to your questions while we are on the air this week.
Be sure to REGISTER and check out AlwaysEden.com– lots of great stuff taht may help you to keep that FIRE burning in your own relationship.