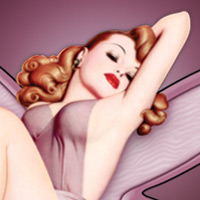 Our Bliss Pleasure Parties are like "everything you should have learned in sex-ed but didn't."  We take great pride in facilitating SUPER fun, sassy and educational pleasure party presentations. It's like a little bit of Sex Ed, a little bit of GIRL TALK with your best friends and a little bit of "Show and Tell" all wrapped up in one party. (Or as I sometimes say, it's like a really hilarious Tupperware party with really sexy samples to pass around.)
One of our sex toy bloggers hosted a pleasure party and she wrote up a really awesome review of our home sex toy party. Her name is Lexi and she does get toys from us for FREE and then writes about them for us. She writes VERY honest and authentic sex toy reviews for Bliss. We expect her to write about the good, the bad and the ugly and really appreciate her honesty and her openness.
Here are a few of the things she had to say about our Pleasure Parties (and yes, it's all good, but I really believe that she would be honest if  something was not to her liking):
Shortly before the first guests arrived Chrystal pulled up with her mobile sex-toy emporium. She quickly and unobtrusively went to work turning my bedroom into a sex toy store. I regret to say that my bedroom will probably rarely have the potential for that much fun – vibrators, lotions, bondage gear, male masturbation toys and much, much more. 
And it's true, we set up a full mobile sex toy store at every party. Nobody wants to wait for their sex toys. Our pleasure party business is all about that instant gratification and we find that our customers really appreciate the ability to take their goodies home the night of their pleasure party.  Lexi continues here:
Chrystal had done a good job taking the social temperature while we had been hanging out and seamlessly kept the same vibe throughout the presentation. She had a way of making us all feel like friends (even though some had never met each other before), comfortable and able to talk about anything. She started with introductions and a game which resulted in everyone getting a good case of the giggles and 2 lucky ladies winning little vibrating prizes.
I should mention that Lexi is a DREAM hostess. She had a sexy theme, sexy desserts and encouraged her friends to wear something sexy inside or outside to get their mojo going before they even arrived at the party.  She also shared a bit about how we do organize our presentations:
The presentation was clearly organized with each person getting a menu (specifically designed for my party) with all of the items that would be shown and discussed. The order in which the items on the menu were presented was perfect for creating a lusty and aroused mood. Chrystal starting with the foreplay and stimulating goods and ending with the powertools. She passed around each of the items and let us touch, taste, smell, or play with each product as was appropriate. She also described her experience with the products as well as other people's reviews.
I really appreciate Lexi taking the time to write out the "adventure" we had the night of her Bliss Pleasure Party. It's always a huge pleasure to so a party like this when the hostess sets the tone two or three weeks before her actual party date. The ladies all arrive WARMED up and ready to have a great time.
Our parties end with me in the "mobile sex toy store" and we invite anyone who wants to come back and shop to come and shop alone. Everyone who wants to can shop privately and have some private time with me to discuss their own sex toy questions or even discuss their issues around sex. We also DOUBLE bag for the shy customers and all of the shopping is 100% private and discreet.
Thank you Lexi for a fab party and for writing such a comprehensive review and for hosting such a playful party.
Blissfully, Chrystal