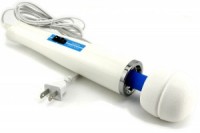 I like to call the Hitachi Magic Wand a "back massager" and I always stress the AIR QUOTES around the words "back" and "massager."  As long as I can remember, I've known about the Hitachi Magic Wand. I mean, like going back to my teenage years. In the days before I knew people used it for clitoral stimulation!
The Hitachi Magic Wand by Vibratex does look like a back massager and I am pretty sure that is what the manufacturer had in mind when they created it. But, you know how it is when you have something that vibrates in your hand. You just gotta see how it feels all over your body! And, any grown woman or teenage girl that ever puts one in her hand … well let's just say you can see the light bulb go off over her head and her eyes light up.
The Hitachi Magic Wand plugs into the wall – just like most fantastic back massagers. Oh, and btw, this back massager -turned sex toy feels AMAZING on your back and neck. It really does. I keep one plugged in next to my couch for that very reason. No. Seriously. I have one for my back/neck and a separate one for other fun.  
I understand that you could possibly lose your "lesbian" card if you are an adult gay woman and you do not own the Magic Wand. This awesome vibe is very famous in lesiban circles. And also very often seen in adult movies where female ejaculation or "squirting" is featured.
There are a couple of reasons why I think so many millions of women love this vibrator. For starters, because the head of the massager (which sort of looks like a bulb) is so large, it does provide a larger surface area of vibration. Many women tell me that it is very intense thanks to all of the labia vibration in addition to all of the clitoral vibration. To put a fine point on it, it does vibrate a LARGE area which can be very pleasureable.
It's also "ol reliable" because it does plug into the wall. So, for women who have difficulty having a climax – that reliable electricity provides a very steady and strong vibration. Some vibrators start off very strong when you first turn them on. As you run the vibe, some of them start to diminish in vibration strength a little bit. So, for women who sometimes need 5 to 20 minutes or longer to have a climax – the Hitachi is just the ticket.
It's a fantastic toy for solo play or for play with a partner. I really love to coach women with serious PMS issues to spend some quality alone time with their Hiatchi Magic Wand about 2 days before their cycle starts. You will be amazed at how it can improve your cycle week. Less bitchiness. Less cramps. Much easier period. Seriously.
It's also a fab toy for Moms! It's discreet. It's a freaking back massager! It does not look like a big honkin dildo so when your kids find you, you can just tell them that it's for your neck. (And, you don't scar them for life when they find your sex toy stash!)
Lots of women use it for masturbation laying on their backs. But I do hear from an equal amount of women who like to lay on their tummies on top of the head of the vibrator. Some women also use it along with a pillow and sort of sit on top of the vibrator almost like a "ride em cowgirl" position.
The original Hiatch Magic Wand does have a large head on it so it can be somewhat difficult to use with a male partner. But, where there is a will there is a way. But, what can be even better is the Mystic Wand also made by Vibratex. This is their answer to the size issue. And, it's cordless.
All of the Vibratex toys are beautiful and luscious. This "personal massager" is right up there with their yummy Hitachi Magic Wand, Original Rabbit Pearl  and their Rabbit Habit. And this Mystic Wand "back massager" takes 4 AA batteries and is also splash proof. It's sort of like the mini, travel version of the Hitachi. It's made with 100% skin safe silicone so it has this lovely "skin" on it that makes the toy feel like a slice of luxury.  And because the head of the vibe is so much smaller – it's a bit more ideal for sex with a man. You can have it on your clitoris while your partner inside of you and it will not get in the way. HEAVEN!
 I love to recommend both style "back massagers" to women of all ages. You just can't go wrong. Even for women like me who own pretty much every sex toy known to man – it's a great additon and a super reliable ORGASM every single time you power up this vibe!
Do you own a "Back Massager" type toy?
If you like our style, I hope you will LIKE our Facebook page.  We are Facebook.com/BlissConnection and we share our blog and other fun stuff about sex and sex toys on facebook.