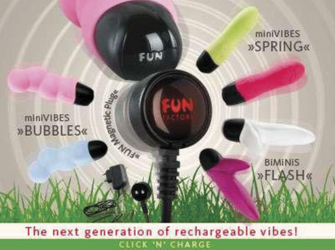 You know how when you were a kid and Santa brought you a new toy but no batteries. Made for a very uneventful Christmans morning. Bad Santa. Bad Santa. Well, that's how we girls feel when we have a sex toy we are all ready to use and NO BATTERIES. Or old, bad, dull batteries. There's no sadder walk of shame then scroungeing around your house checking the remote control and the PS2 controllers to see if you can find some triple AAA batteries or a dang 9V battery. (For those of you who love the 5 speed bullet sex toy as much as I do, you know about that 9 volt.)
Well, welcome to FUN FACTORY and their new "Click'n Charge" sex toys. These new sex toys come with a charger that sort of looks like a cell phone charger but it has this little quarter sized disc at the end of the toy and that is the charger. You take your Fun Factory sex toy and put the disc on the CHARGE spot on the toy and they connect via a magnet. Once they click, they begin to charge! Such a cool concept.
I am very excited to have Memo from Fun Factory on my Better Sex Radio this Wednesday at 11 a.m. Pacific to tell us more about the new line of rechargeable and body safe sex toys made in German. If you would like to hear us stream live, you can listen from your computer on www.BlogTalkRadio.com/BlissRadio .
This is from the Fun Factory Press Release about the new Click ' n Charge Sex Toy Technology:
"The Fun Magnetic Plug is Fun Factory's latest environmentally friendly accessory that will make batteries obsolete, the company said. The recharging plug features a metallic contact point that connects to the magnetic surface on the new vibes, located on the toy's Fun Factory logo, and sends re-ups the item's power levels without affecting its memory.
Available with country-appropriate plugs, the Fun Magnetic Plug recharges the entire line of Click 'N' Charge vibes, which include lithium-polymer batteries.
According to the company, all future Fun Factory rechargeable vibes will feature Click 'N' Charge technology."
If you'd like to stay in touch with our future shows, sign up for our Bliss Radio RSS Feed at the top right hand corner of this blog. You can also join us on Facebook on our Fan Page.  Bliss On Facebook