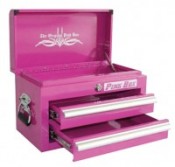 How do you hide or store your sex toys?  When you have kids, roommates or a house cleaner who comes to your house on occasion, you need to find a good way to store them. I have been meaning to write this blog and was reminded by a good friend of mine today who had an incident where her son emptied out her "special" box she keeps under the bed. The funny thing is, he just wanted the box the toys were in. Luckily for her, he is young enough not to have a clue what they are.
So, over the years I have seen some interesting places that my customers hide their sex toys. Here are some cool suggetions that are super cheap to luxury storage treatments for your sex toy stash. When we do our Bliss pleasure parties, we set up a full store in our customers' homes and most of the time, we set up our sex toy store in the bedroom. So, I have seen a lot of sex toys and sex toy storage concepts!
Sex Toy Storage Ideas:
1. Bankers Boxes have been used for years by customer who know that if you write "Income Taxes 1998" on the outside of the box, no one will go in there.
2. Tackle Boxes that are made for fishing and fishing tackle make a great and very UN SEXY storage locker for your sex toys. They're usually olive, camo, green, beige and not something your 7 yeard old nosey daughter is going to rifle through.
3. Tool Boxes like the one pictured here are fun and sometimes they have a lock on them, so you can keep prying eyes away and avoid that "Mommy, what is this for" question when your teenagers or pre-teens find your dildo or bondage stash.
4. Tunti makes a cool lockable toy box that looks much like a camera case. Great for traveling because no one would know what's inside until the Homeland Security people scan it. Then it's just yours and the U.S. Government's secret.
5. Toi Bocks created a gorgeous line of high end luxury sex toy storage stash boxes that you can set on your dresser or armoir. Dawn Tulman, the fonder of ToiBocks.com, created these lovely wood boxes that look more like a jewelry box or a tissue box. No one would even know what's inside. And it has a very special locking mechanism so your teenagers or your nanny cannot break into it. Dawn and her team thought of every detail.
There are lots of other ways – some people use a safe. Some people put them all in a pillow case and put them in the back or bottom of their drawer. Some people hide them in the bathroom (which I do not recommend as there is way too much moisture in there) in a make up case. Some people buy hat boxes or cutesy boxes from a department store. You have to be careful with the super cute containers because they do appeal to girly girl little girls and they will go looking through them even if they are at the very very top of your closet!
We'd love to get your ideas on where you hide your sex toys. Please add your secrets to the comments section.
Are you a fan of Bliss? Join our Facebook Fan page :  www.Facebook.com/BlissConnection
You can also buy the Toi Bocks and Tunti storage cases on our very tasteful online sex toy store www.BlissConnection.com