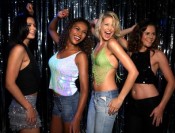 I am so excited to be dancing with a bunch of my girlfriends this weekend at Sedusa. If you don't know about this local gem – you need to know about it. It's a beautiful dance studio oasis with 20′ poles and so much more. Carol, the owner of Sedusa opened her pole dance studio in Campbell about 7 years ago. She and I both started our businesses right about the same time. It's been so fun watching her business grow and we've been big supporters of each other's businesses almost from the very beginning. Our customer base definitely has lots of synergy.  Sedusa Studios Website  
Sedusa is the "largest Sensual Pole Dance studio in the U.S." and it just so happens to be in the Bay Area. She has a studio in Campbell, S. San Francisco and Walnut Creek. It's such a great place for a girls' night out or a great place for a work out, too!
 I have been looking forward to this for a month. For one thing, I just love to dance. I can dance and dance and dance some more. I always have since about junior high. I am not the world's best dancer, but I can do my thang. Plus, I just don't really give a flying YOU KNOW WHAT about what people think when I am on the dance floor! But dancing with my girlfriends gets me so happy! A few cocktails, some "cool jams" from the 80's and some FUNK and this big girl likes to shake her money maker.
 At Sedusa, it will be more of an intro to Pole and Sensual Dance, so it will be not quite so energetic and unbridled. Sedusa teaches the art of SLOW purposeful moves that will excite your partner or just make you feel like the sexy, confident goddess you are. Sedusa has classes all week long at the studios and all sorts of women take classes at Sedusa. Old, young, skinny and not so skinny. It's designed to let you feel and KNOW your inner vixen.
When you walk in, you get to put on their VERY sexy shoes! It's like the bowling alley, but way way sexier. The studio is very dark with AWESOME lighting that makes us all look like we have PERFECT skin and no wrikles! Chrystal LOVES this. 🙂 There is a lingerie boutique inside, lots of mirrors everywhere, cherry hardwood floors and 12 20′ dancer poles for you and your girlfiends.
We are going to be a group of about 10 women. Some of the women are friends of mine from my book club and some I have met through being a business owner / entrepeneur. They are the smartest, sexiest women I know and I can't wait for them to all experience Sedusa and walk out of there feeling even sexier and smarter then when they walked in. The studio is so beautiful on the inside – you can't help but feel super sexy inside with all of the sexy imagery, the sexy clothes, panties, booty shorts, lingerie and hot hot shoes.
 If they are o.k. with it, I promise to take lots of pictures Saturday night to share with all of you. (I need their permission first.) It's going to be a blast and I am so excited to learn some moves and find my INNER VIXEN! Girls' Night Out. Watch out Campbell! Lusty vixens on the loose.
Join our fan page on Facebook and you can see the pictures from our Girls' Night Out. Bliss on Facebook