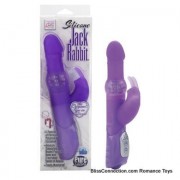 Good fortune? Being very prolific or speedy? YES! All of the above. But how about a Jack Rabbit that is also waterproof and made with silicone? How about a Jack Rabbit that is cordless and whisper quiet? (People always ask me why so many sex toys have a rabbit on them. I tell them my guess is that they chose the rabbit because they are so prolific… and that's a polite way of saying horny.)
Well it was my good fortune to get a sample of the new Silicone Jack Rabbit from Cal Exotics as part of their Sex Toy Expert blogging program. So, yaaaaa for rabbits and good fortune!
At our home Bliss pleasure parties, I do get asked often about toys that women (and especially Moms) can use in the shower or the hot tub. Sometimes the bathroom is the only place we can get any real privacy and ME time, right? And, many women have been in love / lust with their rabbits over the years and have been excitedly awaiting a waterproof rabbit that is well made, provides enough vibration and is quiet enough that it will not sound like there is a leaf blower in their bathroom.
I love the skin on this rabbit. It's silicone so it feels very velvety and very luxurious. I do not really get the reverse rotation button on this toy, but the other features are fab. (I have noticed that several rabbit style toys have this "clockwise/counter clockwise" switch that lets you switch up the way the pearls rotate. I never really understood the joy in that, but apparantly some women like it.
 If you are a follower of my blog or my Facebook posts, you may know that I love the 5 Speed Bullet like nobody's business. I love it because I love the 5 speeds of pulsation and escalation. This Silicone Jack Rabbit also has pulsations and escalations. Weeeeeeeeeeeeeeeeeeeee! 7 speeds to be exact.  And, because it takes 3 AAA batteries, MORE POWER! (Well, enough power. Not quite as much power as the 9v battery in the 5 Speed Bullet – but enough power to get'er done.)
This rabbit is about 5″ of insertable shaft and about 1.75″ of girth. From tip to the bottom of the battery pack, I would say the toy is about 10″ long. It's also much lighter then the Waterproof Jack Rabbit from Cal Exotics which can get very heavy in your hand if you use it for an extended amount of time. I know it may sound strange, but it is something you need to give some thought to when you are buying a sex toy. Your arm can get fatigued when the toy is super heavy. This silicone jack rabbit is nice and light and super quiet – even with three batteries powering the motor.
I think this toy may stay in my shower caddy!
And, btw, if you like our blog you can subcsribe to it for .99 cents a month and read it on your Kindle. Here is the link to see our Blog "Everyone Wants to Have Better Sex" on Amazon. Just .99 cents a month. Kind of fun and you can cancel it any time if you're not satisfied with it.
Let's connect on Social Media – www.Facebook.com/BlissConnection and I tweet as @blissconnection
Blissfully, Chrystal Bougon