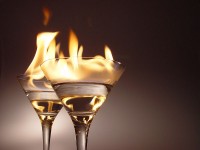 Here are some fun NAUGHTY COCKTAILS for you to use for your pleasure party or other occasions in the future. I also put the Better then Sex Chocolate Cake at the bottom of this sheet.
Enjoy! Any questions? Call us at 408-712-3809 or email us at BlissConnection@gmail.com or come "Like" us on Facebook.  Facebook.com/BlissConnection
You can read more about our Bay Area Pleasure Parties  www.BlissPartiesInc.com or www.blissconnection.com which is our very tasteful online sex toy store. We do pleasure parties all over San Jose, Los Gatos, Gilroy, Milpitas, Sunnyvale, Santa Clara, Willow Glen, Campbel and almost all of the Bay Area.
Knock You Naked Margarita
12 oz frozen limeade
12 oz of 7 up
12 oz of tequila
12 oz Corona
Mix together and serve like a martini or cosmo. I like the salted rims, but then I prefer margaritas with salt.
Citron My Face (my book club's favorite)
12 oz Vodka (Citron Vodka)
18 oz Sprite
12 oz Sweet & Sour Mixer
6-8 oz Cranberry Juice
Mix all together and serve!
Get Lei'd
3/4 oz Raspberry Pucker liqueur
1 oz Vodka
6 oz Pineapple juice
1 splash Cranberry juice Pink Panty Dropper Punch
1 750ml bottle of vodka (a fifth)
3 oz Lemon juice or 1 can of lemonade concentrate
9 oz jar of maraschino cherries
2 L Sprite
Pour it all, including the juice from the cherry jar into a punch bowl and serve. Wear a belt.
Hawaiian Screw
* 2 oz Vodka
* Orange juice
* Pineapple juice
Mixing instructions:
pour over ice in regular glass. Add pineapple and orange juice to taste. Sort of like a regular screwdriver except with a tropical twist!
Coochy
2 parts light rum
1 part triple sec
2 parts pineapple juice
blend, serve in exotic glass with a (what else) cherry Pink Panty Droppers
Ingredients:
Ice cubes
1/2 oz Rum (Bacardi)
1/2 oz Vodka (Absolut)
1/2 oz Gin (Tanqueray)
1/4 oz Triple sec
1 splash Cranberry juice
1 splash Pineapple juice
Mixing instructions:
Shake drink in a regular shaker. Garnish with a cherry
Kumoniwannalaya
Ingredients:
2 oz Gin
1/2 oz Triple sec
Fuzzy Hoo Ha Punch
2 firm ripe peaches or a bag of frozen peaches ½ cup peach schnappes 1/3 cup superfine granulated sugar 3 Cups of chilled rose wine (750 ml bottle) 2 cups chilled sparkling water Stir together the peaches, schnappes, and suger in a large Pitcher until sugar is dissolved an let stand 1 hour. Stir in wine, sparkling water and maybe a little ice. Frozen peaches can work as ice. You can use fresh Peaches when they are in season.
Schlong Island Iced Tea
1 part vodka
1 part tequila
1 part rum
1 part gin
1 part triple sec
1 1/2 parts sweet and sour mix
1 splash Coca-Cola®
Mix ingredients together over ice in a glass. Pour into a shaker and give one brisk shake. Pour back into the glass and make sure there is a touch of fizz at the top. Garnish with lemon. BETTER THAN SEX CHOCOLATE CAKE: 1 (18 1/2 oz.) pkg. German chocolate cake mix
1 c. semi-sweet chocolate chips
1/2 (14 oz.) can sweetened condensed milk
1/2 jar caramel sauce
12 oz. carton frozen whipped topping, thawed
3 Heath bars, crushed Preheat oven to 350 degrees. Grease and flour 9x13x2 inch pan. Prepare cake mix as directed on package; pour into prepared pan. After 10 minutes of baking, sprinkle with chocolate chips. Continue baking until cake is done While cake is still hot, poke holes in it with handle of wooden spoon. Pour sweetened condensed milk over cake; let cool. Top with caramel sauce, then whipped topping. Sprinkle with candy bars. 12 to 16 servings
MORE NAUGHTY COCKTAIL RECIPES:
Sextini
Stoli Vanilla
Bailey's
Amaretto
Garnish w/a cherry
Blow Job
¼ oz Bailey's Irish Cream
½ oz Butterscotch liqueur
Pour liqueurs into a shot glass, top w/whipped cream.
Sex On The Beach
1 shot vodka
1 shot peach schnapps
Orange juice
Cranberry juice
Sex With The Captain
½ oz Amaretto
½ oz Captain Morgan's Spiced Rum
½ oz Peach Schnapps
Splash of Cranberry Juice
Splash of Orange Juice
Shake w/ice, strain into glass
Pink Pussy Cat
1 ½ oz Vodka
Pineapple or Grapefruit Juice
Grenadine
Pour vodka into glass of ice, add juice, grenadine to color.
Buttery Nipple Shot
1 oz Butterscotch Schnapps layered
1 oz Baileys Screaming Orgasm
2 oz Amaretto
2 oz Coffee Liqueur
2 oz light Cream
2 oz Vodka
Shake, strain into lowball glass.
Strip and Go Naked
24 oz Vodka
12 Beer
3 Cans Pink Lemonade
Flirtini
1 oz vodka
2 oz champagne
2 oz pineapple juice