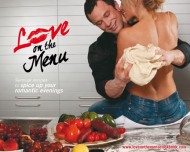 Were you thinking about cooking your special someone an extra romantic dinner this Valentine's Day? We have just the cookbook for you! It's called "Love on the Menu"  – a sensual recipe book!  You can buy their book here:
www.LoveOnTheMenuCookbook.com and you can tune into Better Sex Radio this Wednesday at 11 a.m. as we talk with the creators of the cookbook… and we will talk FOOD and aphrodisiacs and some great ideas for a very sexy Valentine's Day dinner.  www.BlogTalkRadio.com/BlissRadio
"Set to a backdrop of sensual music (Hit Parade section), start your evening off with a honey and mandarin bubble bath or a spearmint oil massage (Prelude section), and a titillating Tongue Tango cocktail (Love Potions section). Then prepare an inviting meal with aphrodisiac ingredients: Oyster and Strawberry Fizz, Calamari Orgy, Hot Beef Injection and top it all of with Ladyfinger Strokes!
Enjoy the sensual pictures, the erotic poetry and the wine pairing! Sensual cooking is made for two. Touch, hearing, smell, taste and sight….all five senses are evoked before, during and after the meal. There is no cooking without senses and so sensation without passion!"
'We should look for someone to eat and drink with before something to eat and drink" (Epicurus – 341-270 BC)
Watch the making of on Youtube: http://www.youtube.com/watch?v=Y4XJr_Y5qJ0
Have any questions or comments? Leave them here.
You can also join our Bliss Fan Page at www.Facebook.com/BlissConnection