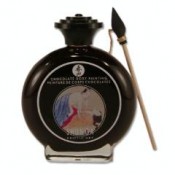 Valentine's Day shopping just got a lot easier with Shunga Erotic Art. The Canadian company offers chocolate body paint and a complete Body Painting collection in 3 sensual and edible flavors: Vanilla & Chocolate Temptation, Strawberry & Champagne and Aphrodisiac Chocolate. Use this aphrodisiac edible body paint to write love poems, draw hearts, flowers, and reveal your artistic side you never knew you had. At BlissConnection.com, we also sell their Orgasm Enhancement Cream for Women.
"We wanted to have flavors that appealed to all sorts of customers. Lovers can experiment the art of matching all three colors, setting their imagination free and having fun with all of their senses" says Ron Vaillancourt, Shunga's Marketing Director.
Shunga uses SHUNGA as its packaging, which are Japanese erotic works of art from the 16th to the 18th centuries. This collection has 20 categories of products offered in various flavors and fragrances. We can find massage oils, heating aphrodisiac oils, body powders, massage creams, massage candles, sensations balm, and orgasm stimulation cream for women, lubricants, bath & shower gels, Dead Sea salts, natural herbal supplements for sexual energy, chocolate body paint, and various luxury kits.
I am very excited to interview Angela from Sunga about their yummy erotic and sensual products. Tune in this Wednesday, Feb. 2nd at 11 a.m. pacific at http://www.blogtalkradio.com/blissradio
Join our fan page on Facebook at www.Facebook.com/Blissconnection 
The Shunga gifts make a perfect Valentine's Day gift for your lover.  We also have some fantastic Valentine's day gifts from our friends at www.all-the-buzz.com    Check out their website for some romantic and blissful gift ideas for your sweetie.