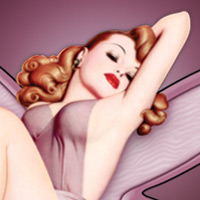 Hello Blissful Friends. I have, in the past, suggested some fun ideas for breaking out of your SEX routine – and one of them I suggested was what I thought was a fun idea for breaking out of your bedroom "rut." I suggested that if you are stuck in a rut, write out about 10 different SEX POSITIONS and put them in a hat. Draw one out in the morning and plan to do that position that night. It's kind of fun on two levels. First, you and your partner get to think about the position all day long building up the anticipation and fun before the actual act. Secondly, it gets you out of your regular routine and let's you get to try something FRESH and NEW which always brings giggles and fun energy to your romantic life. (We offer all kinds of Sex Toys and Romance Products to get you out of your rut, too. Our very tasteful online sex toy store is BlissConnection.com )
I was so excited when I saw a similar idea from but instead of positions, they have a list of 43 Kisses! Yum-o. They suggest you take their list of the various KISSING types, cut them out, fold them up and put all 43 in a hat and then spend an afternoon or evening trying them all out. HOW FUN DOES THAT SOUND?
Here are a few to get you started and the link to their article so you can read their FULL LIST!
http://www.hotdateideas.com/date-ideas/43-kisses
A simple kiss and a great way to get and give feedback about the kiss you do most often.
Lean together into a simple kiss, open your mouths and touch tongues lightly. Enjoy the feeling of your tongues moving against each other. Important point – do not move too deeply into your partner's mouth.
Popular in Asian nations where public kissing is frowned upon, the sniff-kiss doesn't involve lips at all. Lean into your date and put your nose near their cheek, ear, or neck. Inhale their scent deeply.
Instead of kissing with your lips, lean in close and gently bite your date's lower lip, being very careful not to bite too hard back and forth, up and down, or any which way you like. Get close to your partner and flutter your eyelids against their cheek, neck, lips, or nose
Check out their entire article and be sure to COMMENT on their blog and let them know what a fantastically fun list this is they created!
Want to know more about Bliss? Join the conversation on Facebook.  www.Facebook.com/BlissConnection
Do you agree? Does KISSING keep the sex in your relationship FRESH?