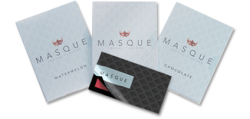 The first product ever scientifically proven to mask the taste of semen. www.YourMasque.com is designed for oral sex on him. And I am interviewing the founder of the company tomorrow on Better Sex Radio. To tune in you can listen live at 11 a.m. Pacific at www.blogtalkradio.com/blissradio .
Years of research have led to this breakthrough for your bedroom. Masque is a paper-thin, gel strip that dissolves on your tongue and completely disguises the taste of semen during oral sex for up to fifteen amazing minutes. We'll work our magic, while you work yours.
How does it work?
Masque is partially comprised of flavor masking ingredients that work to block taste profiles associated with oral sex on men, and semen (salts, bitters, and proteins). These masking ingredients are all microencapsulated into an orally dissolvable, flavored strip.
Is Masque like other novelty products? (e.g. flavored lubricants and flavored condoms)
No, Masque is not another flavored novelty product. Masque has been designed by a team of scientists and researchers who have engineered a formula combining individual taste receptor blockers which are microencapsulated in a paper thin, dissolvable, oral gel strip.
Couldn't I just use a mint or Altoid for a similar effect?
Masque doesn't overwhelm the flavor or cover it in the way that a mint does. For up to fifteen minutes after the strip dissolves on your tongue, the salts, bitter and protein are completely masked to your taste receptors.
Is Masque just like a Listerine® strip?
Masque is a similar product to Listerine® strips in that they are both dissolvable oral strips. The similarities end there. Masque actively conceals all flavors associated with going down on your man.
What flavors does Masque come in?
Masque is currently available in Strawberry, Watermelon and Chocolate. Each has a slight menthol hint.
When will you release other flavors?
We are currently in various phases of development of other flavors. If you have a suggestion for a flavor you'd like to see, drop us a line.
How long will it last?
Masque is fast-acting with immediate results after the strip dissolves. Initially the masking technology was designed to last approximately 10 minutes, but since then, individual usage tests have shown strips typically last up to 15 minutes and in some cases longer.
Great idea, right?
Like our blog and our podcasts? You can hear them all on www.BlissOniTunes.com and if you love our style, please join our Facebook business page at www.Facebook.com/BlissConnection