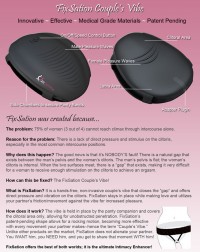 A wireless sex toy / vibrator that couples can wear! I love this concept. Several companies have attempted it, but I have not been able to find one that works for me. (For various reasons, they have not worked. I don't want to go into detail here or bad mouth other sex toy companies.) I am going to keep this all about WHY I loved the MyFixSation.com toy that Tiffany York sent me to sample. And, you can buy one from us at Bliss here online. Free shipping, too.
So, right away I knew I loved MyFixsation.com because they actually thought about ALL BODY TYPES for their panties! You see, their little vibrator fits into a special pair of panties that let the panty hold the vibrator on your clitoris and labia so it stays right where you need the vibration! Tiffany believes like I do that ONE SIZE DOES NOT FIT ALL! So, she has the special panties available all the way up to a 2x. Hallelujah Tiffany. With the average American woman at a size 12, we are going to need some panties that fit all of us. Big girls LOVE great sex, too!
I'm really looking forward to interviewing Tiffany of MyFixSation.com on Better Sex Radio this Wednesda, Oct. 5th at 11 a.m. You can tune in live at  www.BlogtalkRadio.com/BlissRadio
I love this. This is from the MyFixSation.com website about relationships and intimacy:
Intimacy is the key to successful relationships!
We believe that when two people in a relationship stop making love, or rarely make love, they begin to lose their connection to each other. As a consequence, the intimacy in their relationship suffers, resulting in a myriad of escalating problems. FixSation wants you not only to have sex with your partner, we want you to have the BEST SEX you've ever had in your life and in your relationship. We believe that when this happens, your desire to have more sex will increase, forming an improved connection with your partner, and enhancing the intimacy in your relationship.
Check our their Facebook page for their products:  https://www.facebook.com/MyFixSation
And, if you like our style and want to join in the conversation, please LIKE us on Facebook, too.
http://www.facebook.com/BlissConnection