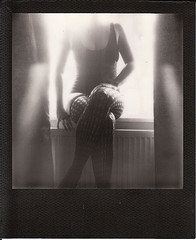 Photo Credit: mediavlog
One night stands come wrapped up with a lot of different meanings. On the one hand, the idea of a one night stand is exciting and even a little mysterious. But on the other hand, nothing is ever as simple as it seems. Of course, we always say that our orgasms are our own responsibility, but sometimes you just want a partner!  At Bliss Connection we like anything (within reason) that brings some excitement to women's sex lives, so we thought it would be fun to explore one night stands!  What is it that makes a one night stand compelling? What makes it seem off limits?
There are definitely some "pros" to having a one night stand. Maybe you don't have the emotional energy to devote to a committed relationship right now. Or perhaps the right special someone just hasn't come along, but you still crave the close physical connection that comes with sex. I say, if you're both consenting adults, both know what the deal is, and take precautions to protect yourself from disease or unintended pregnancy, why not go for it?
One night stands feel like permission to let go of your inhibitions and do something a little bit crazy, don't they? After all, if you're not planning to spend time at PTA meetings or applying for a mortgage with this person, maybe you can step out of your comfort zone a little and try out a new persona! Break out your favorite sex toys and teach him a thing or two. It can be super sexy to experiment with a new partner when you're just learning about each other's likes and dislikes.
Of course, everything comes with strings attached these days, if you're not careful. It's important to be certain you are getting involved with someone you know enough about to be safe. And no, someone you've had a few drinks with at the bar doesn't count. Don't take any unnecessary risks! Don't forget about discretion – you don't want your escapades being the talk of the neighborhood (or worse, office)! I'm also big on honesty. Be up front about what you expect – and if you're already in a committed relationship with someone else, maybe you should think twice about a little dalliance.
If you're thinking about a one night stand, go for it. Just make sure you're making the right choice for the right reason!
If you like our style, you can also LIKE us on Facebook. www.Facebook.com/BlissConnection