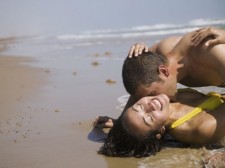 Stop Faking It, Just Have One has been my mantra for the past 5 years or more (well, actually maybe since about the time I turned 30). "No one can give you an orgasm. It's your job to have an orgasm, not someone's job to give you one" is the first line of the book I am writing. When I read this survey and this sort of  "stream of consciousness" from Calle on her survey about a woman's orgasm, I knew I had to share it. It' just gives you what I feel is a sliver of the thought process women go through before we have sex with someone new and before we can climax with a partner.
Calle has a website called "MarriedandHappy.com" and her website is all about "Intimate, Happy & Fulfilling Relationships."  Clever, right?  She has lots of ways to help couples in long term relationships strengthen their bond and keep the sex good and going and going and going.
Ok, here's the quote from her survey I wanted to share about the thoughts that run through a woman's head and the decision process many of us go through to allow us to surrender to the pleasure:
"Question: Once a woman starts making love with a man, what causes her to be orgasmic with him?
Calle's Answer: When she reaches the conclusion, "Ok, I can relax…everything seems to be ok…he's relaxed and enjoying himself…everything seems to be feeling good to him…he seems to be really enjoying me…he seems to really be into me…he doesn't seem to be in a hurry or a rush…so, I guess I CAN and should start enjoying myself too…I guess I CAN and should start noticing what feels good…I guess I CAN and should tune into what is pleasurable…yes…I feel safe…yes…he seems to be fully accepting me…yes…I I LOVE the connection we have…yes…this is sexy and erotic…yes…it's ok…if I need to, I can tell him or guide him to do whatever I need for me…ok…this is nice…yes…this IS nice…everything is ok…it's just us…nothing else matters…it's just me and him…and this moment of love and connection…of true intimacy…ohh…this feels good…this IS good…" Then, at some point a woman stops thinking, caring, comparing, judging, evaluating, worrying, etc. and surrenders to the joy and pleasure of connection and feeling…she ALLOWS and LETS herself go with the pleasure…she DRIVES the man as needed to GIVE her the pleasure she needs, and once she does this, she has moved into the "orgasmic / pleasure / surrendered state"…which barring any distractions or interruptions will take her to orgasm. "
I put the text in red because I wanted to ephasize that part.
My take on this is that if he has invited you into his bedroom or boudior – he is ALL THOSE THINGS and so if you can, that is the time to let go of all of that worry about the COMPARING and the EVALUATING and let go. ENJOY. I know it can be hard work for us to do that, but we all know the sex will be so much better if everyone can just let go of all of that STUFF we have rattling around in our brain and just enjoy the pleasure we deserve.
We'd love your comments here on our blog. Please check out Calle's website. GREAT site with great info and great tools. You can also join us on our Facebook Fan Page at http://www.Facebook.com/BlissConnection