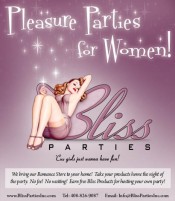 Pleasure Party. Passion Party. Brown Bag Party. Sex Toy Party. F**kerware Party. Those Parties. Romance Party. Hen Party. Adult Toy Party. They go by many names. We call our parties "Bliss Parties" – Bliss is our brand of home parties. And we have a ton of fun pleasure party ideas for you and your group.
At a Bliss pleasure party you get to see everything up close, out of the box, with batteries installed! Plus, you can ask all of "those" questions, and get the answers. Our Bliss romance consultants are fun, funny, sassy, educated, entertaining and there to help you bring more BLISS to your bedroom.
A Bliss party is a lot like other home parties you've been to. A group of friends get together, and invite a professional Bliss party consultant to bring her display of sensual lotions, lubricants, and sex toys for a fun, educational, and definitely titillating presentation. And with a Bliss Pleasure Party – we set up a FULL STORE in your home so no one waits for their sex toys, lubes, dvd's, vibes, oils, books or other romance goodies. We are all about INSTANT GRATIFICATION at Bliss.
It's always a great idea to have a THEME for your home party. It can be super simple – but it does add to the energy of the party. We have some fun naughty cocktail recipes and a "better then sex" chocolate cake recipe we like to share with our hostesses. You can do something simple like have a "Pink Panty Dropper Punch" theme. Invite your guests to wear pink and make these fun pink martinis. I've even seen some hostesses go to Marshalls or Ross and buy some adorable $1.50 pink panties to give out as a party favor. (Brand new "AA" batteries also make a fun party favor!)
We have lots more fun ideas for your pleasure party. And, we find the best parties have about 12 – 16 women. At Bliss, we set up a full store in your home so we will need a private room for our mobile romance store. The presentation typically happens in the living room where your friends can get comfortable, have a drink, and we can pass the toys around in a semi circle so everyone can smell, taste, try, feel and check out the toys. (We do a presentation – not demonstrations.) You can also browse our online catalog to get a feel for our toys and prices. www.BlissConnection.com
Have more questions about hosting a pleasure party. Need some more ideas? Give us a call at 408-712-3809 and we'd love to help you brainstorm a super sassy blissful pleasure party that you and your friends will NEVER forget.
Like our style? The "Like" us on Facebook.  Facebook.com/BlissConnection