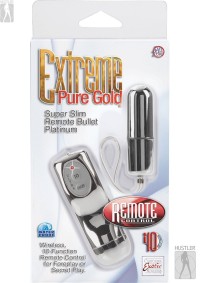 Shhhhhhhh. Can you hear my panties buzzing? When people ask me why I am smiling all the time, I tell them it's because I am wearing my remote control vibrator in my panties. Well, the truth is that I am smiling because I LOVE MY CAREER OF CHOICE! And, I like do have a little mystery in my life. So, only a very few select people will ever know if I am TRULY wearing a wireless vibrator or not. If you're close enough to be that near to my panties – it's because I invited you there!
Wouldn't that make for a fun Valentine's Day out with your sweetie?  Buy her a remote control bullet for her panties and treat her to some extra special fun at the restaurant while you sit innocently across the booth from her. Just have her slip it into place when she powders her nose and viola! There's a party in her panties!
I received one of these bullets to test out for the Cal Exotics Sexpert program. I loved it so much I bought 4 more for my friends and we added it to our sex toy store BlissConnection.com … want one of your own? Use the coupon code VIP for 15% off your very own remote control vibrator. (Just type in VIP at check out.)
What I liked about this vibrator is how sleek and small it is. The remote control is also sleek and small. Very discreet and quiet – so no one has to know what's going on in your panties. This bullet has 10 functions, though I find myself sticking with speeds 2 and 3. (Hmmmm. Same goes with me and my 5 Speed Bullet, too. There's a theme here.) It does have what they call a "retrieval cord" but I don't really get that. I mean, the vagina is a cul ed sac. (What does in, must come back out. Well, except for those evil little swimmers.)
But, if you are worried about losing it in there, then I guess the "retreival cord" is grat for you. This vibrator is also waterproof and you can sit as far as 16 feet away from your partner and they can still use the remote control and torture you mercilessly with it. Sounds like a fun movie night on the couch to me.
The official name of this toy is called the Etreme Pure Gold Super Slim Remote Bullet Platinum. Um. Ok. There is nothing gold or pure about this toy. It is silver in color, so I'll give Cal Exotics the "platinum" thing. To me, it's a remote control bullet. And we're just going to call it a Party In Your Panties here at Bliss!
Like our style? Then "LIKE" us on Faceboo.  www.Facebook.com/BlissConnection or follow us on Twitter @Blissconnection