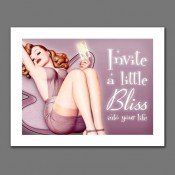 Enthusiasm is everyone's favorite sexual technique and this is especially true when it comes to oral sex! At Bliss, we do offer HOME Blow Job classes and we also do a b.j. group class about once a quarter here in the Bay Area. (More about our blow job home parties here.)
Here are some of the tips we share in our blow job ebook. This 16 page ebook teaches you how to give a gourmet blow job, how to give an efficient blow job and the how and why women LOVE cock rings! (And a little penis ring 101 so you know how to use it when you buy one.)
If you would like to buy our "Blow Job e-book" the link is here and the blow job book is only $4.99 and I do have a money back guarantee. If you're not happy with it, I will be happy to refund your money, too.   Blow Job e-book purchase here:  http://www.blisspartiesinc.com/eBook___Gourmet.html
How to give a gourmet blow job:
1.  Like with all really great sex, enthusiasm is the HOTTEST technique you can bring to your blow job for your lover. Everyone can tell when you are NOT enjoying yourself orally.
2.  Set the mood and the room. Make sure you can be comfortable for a good 20 minutes. We are talking about total worship of his penis and balls. Get cozy and plan on prolonging the b.j.
3.  Make out with his penis. For women, making out and dry humping gets us super turned on. For men, you making out and orally worshipping his cock gets him super turned on.
4.  Your tongue is the strongest muscle in your body. Use it. And use it well. Use it all over and use it with varying types of pressure. When you are using your mouth on his penis, be sure to remember to get your tongue moving around alot, too.
5.  Be sure your mouth is VERY wet. Sometimes brushing your teeth and tongue – especially if you can really get your toothbrush to the back of your throat – that can help your mouth start to salivate. And if you get the penis or the toothbrush way to the back of your throat – it does help to bring up that VERY thick saliva which can make the b.j. very sloppy and fun.
Want to learn more blow job tips? Tune in to http://www.blogtalkradio.com/talkinginthedark as we talk all things ORAL SEX at 6 p.m. Pacific on January 1oth.
Like our style? Then like us on Facebook:  www.Facebook.com/BlissConnection and you can also hear our past podcasts on iTunes at www.BlissoniTunes.com and our very tasteful online sex toy store is at www.Blissconnection.com and be sure to use the coupon code VIP for 15% off.
Blissfully, Chrystal Bougon