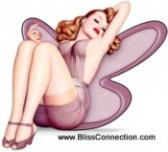 Are you ready for Valentine's Day? Is your dream date for Valentine's Day a cozy night in with your favorite person spending lots of time IN BED? I know that is my Dream Date on that crazy Hallmark Holiday. I do LOVE any day where people show appreciation and gratitude for each other in some way – but I am not big on what the media says we are SUPPOSED to do on that magical day February 14th. (If you are looking for sex toys, please check our out online store BlissConnection.com )
So, if you're like me and your dream Valentine's Day date involves lots of one on one time with your lover, here are some HELPFUL HINT blogs that are quick and easy to read with tips that can add some FIRE and SPICE to your own Valentine's day!
One for the guys. 7 Tips on how NOT to eat her cookie:
http://bliss-radio.com/7-tips/
Unsure about which sex toy to buy for you and your lover? Read this blog and see if you can find the right toy or vibrator for you. Everyone is different and respond differnetly so be sure you don't feel pressured into buying a certain toy. Make sure it's right for you:
http://bliss-radio.com/which-sex-toy-is-right-for-me/
Want to learn how to give him a gourmet blow job or an efficient blow job with my eBook. It's $4.99 and 14 pages full of tips and tricks here:
http://bliss-radio.com/e-book/
Ready for an extra naughty Valentine's Day? Read our 9 Tips for Pain Free Anal Sex blog here:
http://bliss-radio.com/anal-sex-tips/
Are things getting a little stale in your boudoir? Here are some ideas for beating bedroom boredom:
http://bliss-radio.com/3-ways-to-beat-bedroom-boredom/#
Have you ever wanted to have a g-spot orgasm? Here are some tips you can explore and play with on Valentine's day:
http://bliss-radio.com/gspot-2/
Wnat something to read together? How about the 5 Things Women REALLY want from sex (and this one can be sometimes controversial!)
http://bliss-radio.com/5-things-women-really-want-when-it-comes-to-sex/
And add some SMILES and SEXY to your Valentine's day and buy yourself a vibrator that fits in your panties!
http://bliss-radio.com/remote-control-vibe/
We'd love for you to SHARE this blog and please LIKE us on Facebook! www.Facebook.com/BlissConnection