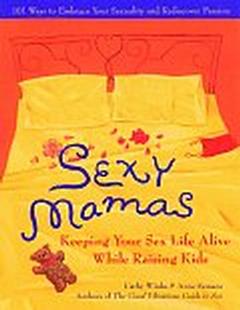 Do you feel like a Sexy Mama? There are a lot of things about motherhood that are not exactly sexy. Waking up at all hours of the night, your body changed beyond recognition, changing endless diapers…the list goes on. Obviously time is a factor, but hormones have an effect too. But just because your kid-free days are behind you doesn't mean you have to say goodbye to your sexual self. In fact, it's even more important to make time for yourself – and sex! – after you have kids. A sexy, satisfied mama is a good mama. It might take a little work to get your brain and your body back on track for a satisfying sex life, but Bliss Connection can help!
Losing your sexual connection can put a serious strain on your relationship, so it's important to focus on being intimate with your partner. It's a challenge to nurture your romantic life when raising kids, but it's worth the effort. For the lowdown on how to nourish your sex life as much as you nourish your kids, check out the book "Sexy Mamas." It's full of tips from medical experts and sex experts, but best of all it offers advice from other mothers. This book has answers to the questions you're too embarrassed to ask at your playgroup – though I guarantee you every other mom you know struggles with these same issues!
To give your libido a jump start, try bringing sex toys into your bedroom that are guaranteed to please. I always recommend my standby Silver Bullet, because if there's one thing moms don't have much of, it's time to waste trying to figure out something new. The Silver Bullet is simple and easy to use and can give both you and your partner pleasure.
Another popular sex toy that is perfect for any Sexy Mama is the Waterproof Jack Rabbit. Sometimes the only time a mom gets a few free minutes to herself is when she can lock herself in the bathroom for a shower or quick soak in the tub. Why not take advantage of that time? Push aside the rubber duckies and pull out your own grownup bath toys! Even better if you can invite your partner in for some stolen moments alone!
Raising kids can be all-consuming, but a Sexy Mama is a Happy Mama, and that's good for the whole family. Do you need to schedule some time to make yourself feel sexy again? Our Moms' Night Out Bliss Pleasure Parties are the perfect way for women and moms to nurture themselves!
Buy sex toys for Sexy Mamas from Bliss now.
If you like our style, you can also LIKE us on Facebook. www.Facebook.com/BlissConnection