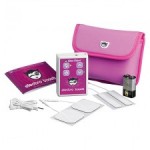 Mr. S Leather & Madame S Leather is practically a San Francisco Landmark. Here is a link from @violetblue that has a super cool TOUR of their FETISH  Store & Factory in San Francisco on her Blip.tv account here:  (N.S.F.W.!  )  http://www.blip.tv/file/240382  You can check out their ISOLATION chamber on this video, too. As Violet says in this video, their store is like a "Disneyland for perverts."
But, I digress. I have never been to their store, but clearly I need to make a trip there some day to check it all out. I have NO idea what some of those implments are in the video – would be an education and then some.
This Wednesday, the 21st, I am interviewing Chris from Mr. S Leather all about the new product the She-Stim.  Chris & Mr. S Leather were kind enough to ship me a sample of this interesting new ELECTRO sex toy. I can't wait to learn more about thse "ELECTRO" sex toys. I was not brave enough to try it anywhere intimate, but I did put it in my hand and my friends' hand and we both agreed it feels like a really BIG shock of static electricity.
This is from the She-stim packaging and it describes this unique sex toy:
"She-Stim is a unique type of sexual stimulation product range due to the fact that unlike normal sex toys that vibrate or rotate, She-Stim directly stimulates your nerve endings using carefully produced electrical signals to generate a highly stimulating sensation.
When the She-Stim Electro Touch is connected to specially designed erotic electrodes the genital areas are stimulated externally or deep inside in a wide variety of ways, adding a new dimension to self pleasuring, foreplay or intercourse."
Tune in at 11 a.m. on http://www.BlogTalkRadio.com/BlissRadio or tune in here above on the little blue radio player up on the top left corner of our blog here.
Want to join us on Facebook? Our fan page is at http://www.Facebook.com/BlissConnection