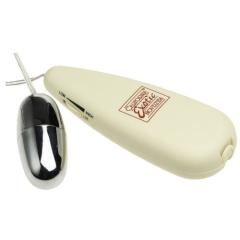 Sex Toy options are endless. If you are new to sex toys, it can be VERY daunting trying to figure out where to start. We were all there, once.  There are some really fantastic toys out there these days. There is the old stand-by and super famous Original Rabbit Pearl made in Japan with Honda motor parts (sex toy made with Honda motor parts)  from our good friends at Vibratex. There are beautiful rechargeable toys by Lelo and JimmyJane. There are the toys that vibrate to your Play List on your Mp3 Player by OhMiBod and the list goes on and on. (Free Sex Toy)
While there are sex toys that are higher quality and with fancier attachments, I still like women and couples to start with the Silver Bullet Sex Toy. It's the perfect toy if you are new to sex toys. It's a great place to start if you have never had an orgasm and it's a cool toy if you have never had a multiple orgasm. (You can train yourself to have multiple orgasms) It can be used alone or with partner intercourse. It's just so PERFECT and small. It's discreet and fairly quiet. It only takes 2 AA battries and it does not look like a big huge penis!   There are atleast 13 Ways to Use this Sex Toy
Stop Faking It and Just Have an Orgasm Ladies! Our Bliss Mission is to get one FREE Silver Bullet into the hands of every single woman over 18 in the U.S. Check out our http://http://www.freesilverbullet.com website for more information!
All you have to do is pay for the box, the handling, the packing material and the bullet. We ship it to you discreetly from Northern CA. You will be on your way to sexual bliss and will revel in how easy it can be to have an orgasm even during intercourse. (Just put it on your clitoris while he penetrates you. The vibration will feel great to both of you. And, if he is nervous at all, tell him that our vagina is going to clamp down very TIGHTLY on his penis when you climax from the bullet on our clitoris.) We also have 3 Tips for Helping your Sex Toys to Last Longer
Please share our "free" offer for the Silver Bullet and our new website Free Silver Bullet with all of your friends, on Facebook, Twitter and anywhere else you would like. We want every woman in the U.S. to have a SILVER BULLET!   FREE VIBRATOR
We want EVERYONE to stop faking it and just have one and we know that the Silver Bullet is almost always a guaranteed orgasm! You can browse our entire sex toy store at BlissConnection.com and you can always add a silver bullet to your purchase for 1 penny when you spend $25 or more on our sex toy store online.