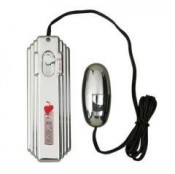 Win a free sex toy by sharing your most embarassing sex story on our blog. (That means you have to comment here at the bottom of our blog where it says COMMENTS.) This contest is sponsored by Pleasure Parties by Bliss.
Have you fallen out of bed during the act? Have you had accidental anal sex? Any funny bloopers with a sex toy? Passed gas at an inopportune moment? Lose a cock ring in the living room? We want to hear your stories, please!
Bliss will give away 1 Free 5 Speed Bullet and a bottle of the Pjur Eros lubricant to the MOST EMBARASSING SEX STORY. And if you want to read more about why we think the Pjur Eros Lube is the best lube ever, you can read our blog called "15 Reasons We Love Eros."
To enter the contest, scroll to the bottom of our blog and COMMENT on the blog. (You can comment on Facebook or Twitter, but those entries will not count unless you enter your comment here on the actual blog.)  The winner will be chosen by me on August 17th. And, I should mention that the 5 Speed Bullet is my all time favorite vibrator ever!
Tell us in 125 – 3oo words your most embarassing sex story.
We hear all kinds of funny sex stories at our Bliss Pleasure Parties so I thought I would turn this into a fun competition! So think back to your college days and share your crazy or most embarassing sex story here.
Like our style? Join us on Facebook.   www.Facebook.com/BlissConnection or you can follow us on Twitter at @blissconnection