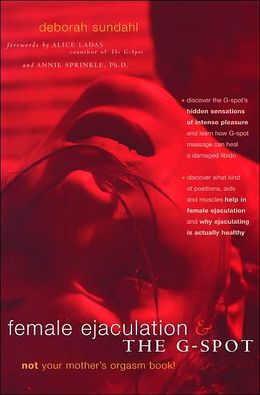 G-spot and female ejaculation
I am so excited. The wonderful and amazing Deborah Sundahl has worked us into her busy schedule and has offered to come to Curvy Girl Lingerie and do a seminar all about the g-spot and female ejaculation. She is an expert and author and it's really exciting that she can fit us into her schedule next week. I know this is very last minute but I will need you to RSVP right away
It's just $25 and I will have some nibbles and refreshments since many of you will be coming straight here from work. She lives in New Mexico and only travels to the west coast once time per year for these seminars, so this is an opportunity we can jump on or wait until next year.
Deborah Sundahl, Author and Sex Educator (www.deborahsundahl.com) (And you can buy her book here on Amazon and I will have some of her books for sale at Curvy Girl, too. Here is the link to buy from Amazon. )
Deborah Sundahl is an international sex educator who specializes in teaching women and couples about the G-spot and female ejaculation. She is the leading expert and pioneer in this field. As expert, she wrote the first, groundbreaking book on female ejaculation in 2003, Female Ejaculation and the G-spot. As pioneer, she made the very first video on this subject in 1992, How to Female Ejaculate – at a time when very few people had heard about female ejaculation.
If you know me at all, you know that I can talk about the G-Spot for hours. It's such a mystery for so many women still. And everyone's g-spot is in a different spot, so it can be more elusive. The clitoris is on the outside our vulva and it's still a mystery as well, but since the g-spot is on the inside of the vaginal canal – it can be very difficult for women and their partners to isolate and stimulate in a way that is comfortable for all parties.
Can't find your G-spot? Wish you understood what a G-Spot orgasm is? Is  your sex toy doing a lack luster job for you? Want to know what all the  fuss over female ejaculation is all about? Learn how to get your  feminine fountain flowing again! (Here is my personal favorite g-spot vibrator from LELO.com )
In this class, you will learn:
Where your G-spot is located
How to stimulate the G-spot to create female ejaculate
How to have a G-spot orgasm
How to massage the G-spot into its natural state of ultra-sensitivity
The best sexual positions for stimulating the G-spot
And Deborah will answer that question "Did I just pee?"
Instructor:  Deborah Sundahl is the reigning  expert on female ejaculation, and author of the book, Female Ejaculation  and the G-spot. She is a women's erotica pioneer; and has 22 years of  pioneering experience and has coached hundreds of women to let their  wild woman gush. She lives in Santa Fe, NM. For more information on  Deborah, see http://www.isismedia.org/
This is from Deborah's website  www.ISISMEDIA.org:
"All women have a prostate just as all men do. Therefore, all women can ejaculate. When stimulated, the prostate swells with ejaculate (prostatic fluid), and it's supporting erectile tissue fills with blood. The prostate and its surrounding erectile tissue is the G-spot.
The G-spot is not hard to find. Put your finger just inside your vagina and push up. There it is! Feel the ridges? Press gently but firmly all around it. Get to know your G-spot, and you CAN ejaculate cups full of erotic juices — if you choose to — because ejaculation can occur with an orgasm or without one.
Because the G-spot is a prostate gland, it is naturally ultra-sensitive. Learn how to re-awaken its sensitivity, have G-spot orgasms, and flow fountainous bursts of female ejaculate!"
"