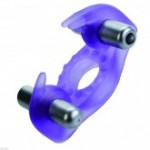 Another Sex Toy Review from BlissConnection.com. Cal Exotics sent me a Wireless Rockin Rabbit to review. You know I love to find new sex toys on my office porch ready for me to try out. Cal Exotics has a formal Sex Toy Reviewer program and they send us a new toy to review and test out once a month. So fun! Thank you Cal Exotics!
My first thought was "how cool, it's wireless!" I have sold thousands and thousand of the Diving Dolphin from Cal Exotics, but it does have a  controller and a wire. And, I am a big fan of the Diving Dolphin. So, to me, this looked like the wireless version of that toy. I was very excited to try the new version of the vibrating penis ring I have been selling for years.
In my experience of facilitating Pleasure Parties, people always LOVE the wireless toys. And, I get the fact that it looks cumbersome when you have the wires and the controller. However, there are times when a controller and a wire actually make good sense. For example, the Diving Dolphin takes 3 "AA" batteries which gives it a ton of power. And, the controller has two switches on it so that means you can control the vibration for the guy and the vibration for you.
With the wireless Rockin' Rabbit, once you get going – it's just ON. This toy is a vibrating penis ring and a pretty cool concept for couples who are new to sex toys and new to cock rings. The toy is fairly straightforward and simple. The actual ring is pretty pliable, but I would suggest "manscaping" before you use it. And, always, when using any kind of cock ring – do have water based or silicone based lubricant nearby. Most rings are going to be much more comfortable for him with a good amount of lube on the shaft before you slide the ring on him.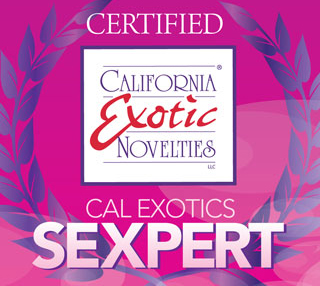 Personally, I feel like the "one touch" style vibrators that come with this toy are not strong enough. But, for some couples who just want to experience a little bit of a tickle or a little extra buzz during their lovemaking – it could be perfect. Cool benefit of this toy is that it does come packed with lots of watch batteries so it's ready to go!
Like our style? Then please "like" Bliss on Facebook. Our business page is www.Facebook.com/BlissConnection and you can follow us on Twitter @blissconnection.  You can shop for the Rockin Rabbit and Diving Dolphin in our very tasteful online romance store BlissConnection.com .
www.CalExotics.com is the manufacturers website and you can browse ALL of the sex toys they manufacture!