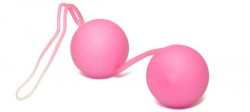 I think it's around page 362 (in the paperback version, not the Kindle) where the sex balls (also known as Ben Wa balls, Ben Wah Balls or Smart balls) are mentioned in the book "50 Shades of Grey." I heard one statistic that ben wa balls sales has increased 350% thanks to the mommy porn sweeping the nation. I have received about 50 emails on the subject asking me what they are, what do they do and how much do they cost.
So, to make my life simpler (I am essentially lazy at my core!) I decided I would write one blog and will just send it out each time I get another question about these damn sex balls. Oh and check this out. A woman is selling 50 Shades of Grey cake balls on Etsy! You gotta love the commerce that has been created thanks to this book "Fifty" as it's called these days.
Ben wa balls are as old as dirt…. well almost. The standard ben wa balls like we sell on our BlissConnection.com website have been packaged and sold to women for YEARS and YEARS – mostly as a tool to help women do their kegels. You insert them and then you do your kegel exercises while they are inside of your vaginal canal. Not necessary to do your kegels, but for some women who have difficulty isolating that muscle set… they can come in handy… to give them something to focus on while you are doing your vaginal work out.
From what I could gather from the book, I believe what Christian Grey was using something that was more like the Fun Factory Smart Balls or the Ophoria Smart Balls I added as the picture for this blog post. Christian inserts them into Ana's vagina before spanking her and they play around with them in all three books – she wears them out and they use them in the bedroom, on vacation, on the yacht and in his dungeon.
These smart balls do not vibrate. But, they have another smaller ball inside the larger ball so you can feel them humm and vibrate a little bit when you move around which can drive you to distraction. Ana really seemed to love them. But, personally, I am not that overly excited about them. If they vibrated, like with battery power, then I might be a little more excited about them. Of course, you can always insert a silver bullet vaginally (or anally) to enjoy vibration internally. (Just put a condom on the bullet, first!)
I also found this cool link of BDSM definitions and wanted to share with you. It explains the various bondage terms which might help you to understand the language of the book. Kinky Definitions / Terms here .
I also added some links to some of the kinkier products we sell on our website BlissConnection to help you find some of the sex toys mentioned in 50 Shades of Grey. Happy browsing!
Like us on Facebook and join in the discussion about this book and lots of other fun stuff around human sexuality.  www.Facebook.com/BlissConnection
Sex Toys from 50 Shades of Grey with links:
Restraints that slip under your mattress
Bondage Kit for Couples from 50 Shades of Grey
50 Shades of Grey Fetish Bondage Tape
Beginner's Bondage Kit in 50 Shades of Grey
Doggy Style Strap from SportSheets
Bed Restraints from Sportsheets
And if you're in the San Jose Bay Area, come join us for our 50 Shades of Grey class that is sponsored by SportSheets.com / Sex & Mischief