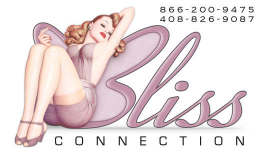 Have you been thinking about having a pleasure party, but aren't sure what's involved? Maybe you're afraid you'll feel silly, or be too nervous to ask questions about the stuff you're really wondering about. Or maybe you're totally excited to invite your best friends over for a pleasure party but you have some specific ideas about what you want to see!
Believe me, with nearly 10 years in the business, whatever your question, fear, or desire you might have, we've heard it all. And we have a pleasure party that will be just right for you for a ladies night out you'll remember!
First, the basics.
Bliss Pleasure Parties are free! We require a $30 deposit to hold your reservation, but refund that on the night of the party.
We bring samples! That's right, you'll get to check out the latest sex toys, massage oils, lubricants – anything you can imagine, we bring in our bag of tricks. Plus, we pack plenty of inventory so there's no waiting for merchandise to be mailed – you get to bring your toys home right away.
We are discreet! We prefer to have a private room at your party where your guests can check out our wares without feeling self-aware.
Pleasure Parties are a great way to celebrate – a birthday, bachelorette party, even a divorce. While we've done a few co-ed parties, in our experience most women prefer Ladies Only!
We're educational! We consider ourselves Romance Specialists and bring a wealth of knowledge on how to spice up your sex life and take intimacy to a new level. Got questions? Just ask!
At Bliss we actually set up a FULL STORE in your home. We bring our traveling sex toy store to you and set it up in your master bedroom or office so you and your friends can actually take your purchases home the night of the party. Instant gratification! And while we pride ourselves on NO PRESSURE parties, we also like to make it easy to do business with us that night. So come and shop privately in the very discreet mobile store. If anyone wants to buy something, they can take it home that night and we can take all 4 major credit cards, checks and cash the night of the party.
We offer a wide variety of Pleasure Parties and are happy to customize one to suit you if you're in the San Jose area. If your book club is abuzz about 50 Shades of Gray (and come on, who isn't?) why not mix things up at your next meeting with a 50 Shades Pleasure Party? Or make it a nooner so you can get together on your lunch hour or while the kids are at school! We even have blow job parties where you learn some tips and techniques to blow your guy's mind.
If you're in the San Jose area, we're happy to brainstorm fun party ideas with you! You can always schedule online, or call or text us at 408-712-3809. You can also email blissconnection@gmail.com to learn more!
Check out sex toys from Bliss Connection now.
If you like our style, you can also LIKE us on Facebook. www.Facebook.com/BlissConnection