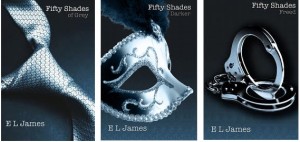 I am so excited to announce that we are now all caught up with the "50 Shades of Grey" trilogy and are ready to offer a new brand of Bliss Pleasure Party. Get ready to KINK up your sex life 50 Shades style! (Call us at 408-712-3809 to book yours.)
Do you and your friends want to learn more about light bondage, paddling and power exchange in the bedroom? Book a Bliss 50 Shades of Grey Pleasure Party, gather 8 to 10 of your girlfriends (ladies only) and we will come and entertain and educate you and your friends about the various bondage and submission scenes you may have read about in the 50 Shades trilogy. We will alos have a variety of paddles, crops and some fun "play" whips and other kinky goodies that may be new to you.
The cost is $350 for up to 8 women. (Each additional guest is $25.) $350 is the minimum required to host a Bliss "50 Shades of Grey" style ADVANCED (semi-kinky)  pleasure party. Call us a 408-712-3809 to get on our pleasure party calendar. (We will need approximately 2 to 3 hours total for the kinky pleasure party. No nudity. Ladies Only.)
When we facilitate a "50 Shades" style pleasure party, each of your guests that have prepaid will each receive a naughty paddle to take home with them. (We sell them on our very tasteful online sex toy store BlissConnection.com )
All Bliss pleasure parties are tasteful, educational yet Ssssy. Ladies Only. We will faciliate a very educational pleasure party with an emphasis on kinky and bondage products that you can use in your own bedroom to kink up your own sex life.
We will show you paddles, floggers, feathers, beginners bondage kits, the doggy style strap, and other products that you can use for sensation play and power exchange place in the privacy of your own bedroom or dungeon. 🙂 fI you would like more information, call us at 408-712-3809 or email us at blissconnection@gmail.com
Our standard Pleasure Party in San Jose is only a $30 deposit.
We also offer Blow Job Pleasure Parties and you can read more about our oral sex classes in San Jose on our website link here: http://www.blisspartiesinc.com/Bliss_BJ_Workshop.html Blow Job Classes in San Jose

Join us on Facebook and join in the dialogue. www.Facebook.com/BlissConnection
Our sex toy store in San Jose is www.BlissConnection.com

Blissfully, Chrystal Bougon
P.S. We do offer other pleasure parties :  Fondue Pleasure Parties for busy Moms, Co-ed Pleasure Parties for mature couples who want to explore how to bring back the surprise and zest to their sex lives and are open to other custom pleasure party ideas for you and your friends.