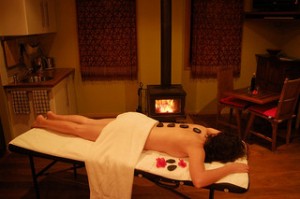 Every woman has a favorite go-to toy, one that they love more than the rest. Our stand-by, the "back" massager, can never be replaced. The best thing about back massagers is that there are a huge variety of toys to choose from, and ways to use them. At blissconnection.com, we have seven varieties of back massagers, ranging in size and price. We've reviewed the most popular ones to help make your decision as simple as possible.
Hitachi Magic Wand: This iconic massager is popular because it works so well. It is the highest quality toy made by Hitachi, and it is great for couples and solo playtime. We joke about it being a back massager, but you really can give a great massage with it. Many couples like to incorporate it into their lovemaking and it can provide a very intense clitoral orgasm for her.
Adam & Eve Back Massager: This back massager is a more affordable version of the Hitachi Magic Wand. You can use this massager on your back but you can also use it anywhere you'd like. It also plugs into the wall so you never have to worry about your batteries dying on you. Sapphire, our sex toy blogger, compared the Adam & Eve Back Massager and the Hitachi Magic Wand on her blog. At $48, this massager is a lot more budget-friendly than the Hitachi Magic Wand.
Mini Waterproof Massager: This small massager is discreet and waterproof. You can leave it in the shower or bath. The single-speed push button bullet easily slides into the center channel in the middle of the sponge, and the elastic strap snugly fits the hand to keep it in place. Vibration carries throughout the material, which is great for sensual massage or masturbation. Another perk of this massager is the price – it the most affordable massager in our store.
My Miracle Back Massager: Experience soothing, resonating vibrations with this high intensity, ultra-powerful massager. The Miracle Massager is angled for ease of use. The EZ-Grip handle makes sure you stay in control of the fun when using this 120volt massager. The flexible, supple head flexes with you for maximum pleasure and comfort.
My Miracle Mini Back Massager: At blissconnection.com, we like to call this massager a "bullet on a stick." A smaller version of the My Miracle Back Massager, the high-frequency vibration packs a punch and plenty of power. Be careful when using it though – with so much power, it can make for a very quick orgasm if you're not prepared. My Miracle Mini Back Massager has plenty of power, does the job and you can even use it for neck massage.
Incorporating one of these massagers into your life will definitely spice things up. Whether you use it alone or with a partner, these massagers are sure to bring a smile to your face.
If you like our style, you can also LIKE us on Facebook. www.Facebook.com/BlissConnection