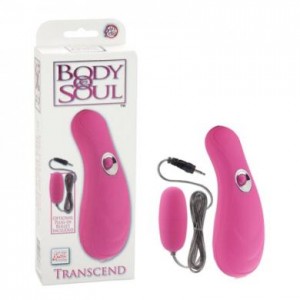 Transcend Vibrator
This is an interesting vibrator. It's a 2 in 1 sex toy. I was a wee bit excited to try out the Body & Soul vibrator once I figured out that it was a clitoral stimulator and "back" massager. GRIN! (And, full disclosure. I get sex toys from Cal Exotics to review. They send me one once a month.)
I love the packaging for starters. The package for this sex toy says "Body & Soul. Life, Love and Lust. Set Aside Time to Embrace your Body and Soul. I can just hear a collective aaaaaahhhhhh. So, the larger portion of this sex toy can be used alone all by itself. And, to me, it looks more like a back / neck massager or maybe something you would put on your nipples or maybe use it in your hand and let it curve over your pubic bone for clitoral stimulation.
But, what I LOVED about this sex toy is the optional bullet you can plug into it. Now we're talking. We all know how much I love the Silver Bullet by now!  ( www.FreeSilverBullet.com )  In this case, my bullet was black and not silver. But, it still worked exactly like the silver bullet. Put it on your clitoris and you are pretty much guaranteed an orgasm.
Something that was a bit trippy about this toy is that when you have the bullet plugged into the handle / massager – they both pulse and vibrate together. So you get the vibration in the handle and in the bullet. Oh the WAYS you could use this alone or with a partner!

The bullet is only $30 and is a great toy for women or for couples.
It's super quiet which is great for women who find the noisier toys disctracting. It also has a fabulous "skin" on the toy. It feels very velvety. The toy takes 2 "aa" batteries and has two speeds and a push button which is very easy to use… even in the dark.
I think this toy would be a fantastic toy for NEWBIES to sex toys. It's not very scary. Super quiet. If your kids found it, it may not be obvious to them that it is a sex toy.
Thanks Cal Exotics for a lovely new toy that is very versatile and 2 in 1 vibrators!
We would love it if you LIKED us on Facebook.   www.Facebook.com/BlissConnection