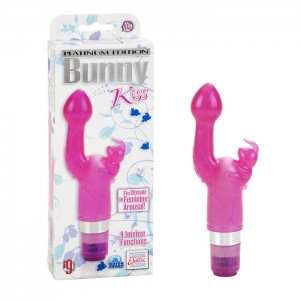 Oh I am soooo behind on my sex toy reviews. Yes, I know, it's a tough job but someone has to do it. And, I WANT to do it and LOVE to do it. Writing sex toy reviews that is…. but I have been way too busy lately to keep up with my sex toy review commitments.
I have had this lovely Bunny Kiss sitting on my desk for over 2 months and I am so excited to finally write this review. And, um, well try the toy out. It's been calling my name for way too long. I am very familiar with the Butterfly Kiss toy. But, the Bunny Kiss is very new to me. It's like the Butterfly Kiss but with 9 speeds instead of 3 speeds.
If you follow my sex to reviews at all, you might know how much I enjoy toys that pulse and escalate. This 5 speed bullet is well known for being my favorite toy ever! And, good news for me, the Bunny Kiss that pulses and escalates AND gives you
g-spot stimulation has all of the speeds you find in the 5 speed bullet and then some.
The extra good news is that the Bunny Kiss from Cal Exotics is waterproof. Good news for you water babies like me. You can leave this one in the shower so you can have some fun in the shower alone or with your lover.
The shape of this toy allows for the blended orgasm. To me, in my mind, a blended orgasm involves stimulation of the clitoris and the g-spot together at one time.  This toy really does KISS your clitoris which gives you some very intense vibration right where you need it. And then the piece of this toy that is inserted also vibrates and it carries the same pulsations and escalations to your g-spot. It has 9 functions and there is something for everyone's tastes. You can just have the LOW or HIGH speed.. or you can try the speed I like. The one's that PULSE PULSE PULSE are my personal favorites.
This toy can be used alone or together with your partner. In fact, it's small enough that you may even be able to put it between you two when you are making love and enjoy the pulsations and escalations as a couple. The toy is nice and soft and bendy and you can fit it it all kinds of ways between two people.
The toy is pretty quiet which is great for women who get worried that someone will hear them. It takes AAA batteries and is super easy to clean. I personally prefer an unscented baby wipe for cleaning my personal sex toys. And, the really good news, is that this toy is made with body safe materials and it has no strange plastic-ish smell to it.
Like our sex toy reviews for Cal Exotics? Then you might like our style. Come and LIKE us on Facebook.   www.Facebook.com/BlissConnection and join in the dialogue.  Have you tried this vibrator before? I would love to read your opinions about this toy … comment below.
Our Blog readers can purchase sex toys on our website www.BlissConnection.comn and use the code BLOG for 15% off your purchase.
Blissfully, Chrystal Bougon
BlissConnection.com owner