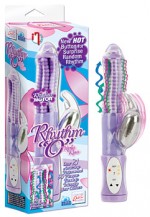 The new Rhythm O Rabbit style sex vibrator arrived last week and we got all excited about the big white envelope it arrived in. It was about a 14″  X 8″ padded envelope big and so that got us curious! We get a new toy from Cal Exotics about once a month and it's always a bright light to my day when a radom sex toy (especially for a rabbit sex toy)arrives for review. Buy Rhythm Rabbit Sex Toy from Bliss Here.
This rabbit sex toy vibrator is about 4″ insertable and from top to bottom, it's about 12″ long. The "bullet" style vibrator is covered in the rabbit ears and the bullet vibe that provides the clitoral stimulation is about 3.5″ from the tip of this toy. So, though it's 12″ long you would likely only insert 3″ to 4″ of this toy vaginally. Considering the size of this toy, it's actually fairly light. (Some of the waterproof rabbits feel like a brick they are so heavy.)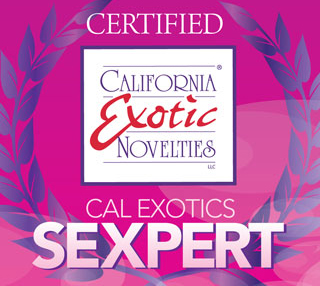 This rabbit is made with TPE Elastomer whoch is slightly porous and cannot be disinfected. We recommend you clean the toys made with this material with soap and water or an unscented baby wipe. Elastomer is phthalate-free, hypoallergenic, soft, and durable. Use with condoms if sharing or for easier cleanup. If you introduce alcohol or other stringent cleaners, it will create even more porous areas so just use something simple like a baby wipe is perfect.
This toy is a very unusual lilac or lavendar color that we have not seen in the sex toys we sell. We usually see lots of purple and hot pink, but rarely this shade of lavendar. It's ok to look at it, but we are not using this as an accessory, are we.  So let's get down to business now and break it down for you.
The "twice as nice" vibe takes 4 aaa batteries. Considering it take so many batteries, you would think it would have more power. What I do like is that you can operate the shaft motor and the bullet motor separately. So, for those days when you need a little more power, you may want to keep the shaft motor turned off and allow all of the juice to go to the rabbit ears.
The shaft is nice and smooth and clear so you can see the lilac rhythm or pleasure beads move around. The good news is that the rhythm beads do not TURN OFF when you grip it very tight like you can sometimes fomd with the other rabbit style toys. Even when I gripped it with my right hand, I could not stop the rhythm beads. In fact, it felt much better the tighter I gripped it. (Sounds like I am writing a review about male masturbation. LOL.)  So, this is where the good motor and the 4 AAA batteries pays off. You would have to have some amazingly powerful kegel muscles to shut this rabbit down. (Speaking of kegels, here is a blog about kegels with tips from the Mayo Clinic.)
I am a big fan of toys that pulse and escalate and this toy has A LOT of pulsating and escalating. Maybe a few too many for this girl, but some people enjoy LOTS of options. The packaging says it has up to 21 combinations. For me personally, it's all about the rabbit ears and the various pulsations the clitoral stimulation can provide. I am sure lots of women love all of the rhythms of the shaft, but they are just not for me.
All in all, I would give this 3.5 Hearts out of 5 Hearts on our Bliss Heart Throb scale. I am most impressed with the bullet and love that it's waterproof.  We would love it if you commented here on this blog if you have tried this Rhythm O Rabbit and let us know your thoughts on this toy from Cal Exotics sex toy.
Want to connect on Facebook? Join our BlissConnection Fan Page where we share tips and fun stuff about sex, dating, marriage, romance, sex toys and more.