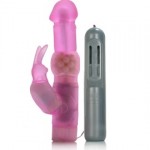 Rabbit Vibrator
 Is the Rabbit really all that?
I get this question all the time, especially at the start of a Bliss Pleasure party. As soon as I walk in the door and get set up, one or two ladies will ask me if it's really the best sex toy out there.
You'll get one VERY enthusiastic "YES!" from me on that subject.
If you are looking for the "twice as nice" style toys – meaning you want penetration and clitoral stimulation at the same time, then you cannot beat the rabbit.  When you're looking for something that is truly FUN (and…ahem…stimulating) to play with, you can't go wrong with the Rabbit.
The MOST FAMOUS is the Original Rabbit Pearl. It was designed and manufactured in Japan by a Bay Area company called Vibratex way back in 1984. They hit a home run in two major ways:
1. They always in the highest quality materials (food grade vinyl or elastomer). After all, these toys are touching us in very intimate ways. And this bad boy is powered by Honda motor parts!
2. Their design team (two women, way back in 1984) had this amazing epiphany – dildos need a clitoral stimulator! Seems like common sense to me, but before the invention of the Rabbit, all the sex toys out there looked like monster penises or giant rocket ships.
Ladies, you should feel for the women before us who had to deal with those crazy, hard, gigantic space ship-looking sex toys. You still see them used in porn – maybe the guys are turned on by that kind of thing. Personally, I can't wait to see them use an Original Rabbit Pearl in an adult film.
The thing is that since the original Rabbit was invented, several versions and knock-offs have been created, and they are NOT all created equal. Make sure you do your research before you commit! Vibratex alone makes 15 or 20 styles of rabbit toys simply because every woman is unique and has her own unique orgasm needs.  (www.Vibratex.com)
Remember that Rabbits (like all sex toys) are not a replacement for a partner. They are designed to enhance your sex life, not take the place of your lover. If you feel like you can't get one because your partner will feel uncomfortable, maybe it's time to help him see the light.  (The Rabbit that "Oprah Magazine" loves – the Rabbit Habit .)
If your partner is uncomfortable with the idea of a Rabbit (or any other sex toy for that matter), I challenge you ladies – do some online shopping with him and show him some of the Rabbits. Make sure he knows that even though some of them measure up to 10″ long, only 3″ to 4″ are insertable. And, the best part is you can use it together!
He can easily hold it and stimulate you in just the right way while making out with you, touching you, holding you. It's a secret weapon – a way to help get you to that moaning/panting/writhing orgasm he loves giving you. If you've never owned a sex toy, maybe try a bullet toy first. But, I can tell you that when you invest in a Vibratex Rabbit and take g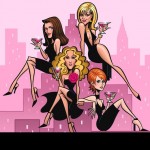 ood care of it, it will last you 5, 10, and possibly even 15 years. That's a lot of orgasms!  (We sell many of Vibratex toys and rabbits on our website www.BlissConnection.com and you can use the coupon code BLOG for 15% off!)
When I am asked if the rabbit is the right toy for a specific person, I do like to ask one important question.  I typically ask my customers how difficult or how much do they have to focus on their orgasm. In my experience, some women can have orgasms more easily then other women. I have heard from some women that have to really really focus on their orgasms that the pearls rotating at their vaginal entrance can take them backwards away from their orgasm. If that is the case, you may still enjoy the rabbits – but you may want to turn the rotation of the pearls OFF or on LOW and just enjoy the rabbit ears on your clitoris and the sensation of the penetration of the shaft inside of you while the ears flutter on your clitoris.
Do you have a rabbit? Do you love it? Hate it? Tell us what you think in the comments!
More about me: I am the owner of an online romance store http://www.blissconnection.com/shop.cfm/Kinky-BDSM/Luxury-Sex-Toys/purple-rabbit-habit/ and have been selling sex toys and lingerie for the last 10 years. I just opened a brand new plus size lingerie store in San Jose called Curvy Girl Lingerie. We focus on plus size lingerie and helping women to get in touch with all of the pleasure your body is capable of!