Yes, we are baaaaaaackk! We have moved our radio show to Blog Talk Radio as it seems to be highly optimized for the search engines and well….. we want people to be able to find us.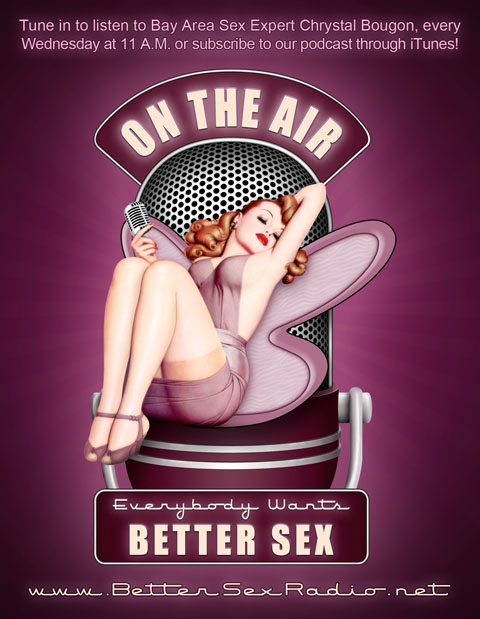 So from now one, every Wednesday morning you will find Sex Expert, Chrystal Bougon at 11 a.m. Pacific on http://www.BlogTalkRadio.com/BlissRadio.
Want to call in and join in the conversation? Have a question or have an idea you would like to suggest for a segment on "Everyone Wants to have Better Sex?" Then please call in at Tel: 347-989-0397.
For our KICK OFF show, I am excited to announce that THE Kara Sutra, of the Sex Ed 102 Fame on You Tube will be brining us a fabulous Sex Toy review each week. You can see her fabulous You Tube Videos at http://www.YouTube.com/HollidayChild
I am also very excited to announce that this week, Kara will join me for the FULL HOUR as we talk about the Exotic Erotic Ball in San Francisco, how an Orgasm a Day can Keep the Doctor Away and the 6 Things that Can Make it Difficult for Women to  Climax. Plus, Kara and I will be reviewing the BUTTERFLY KISS and Kara is going to give her a Fleshlight review, too.
We are very excited to get Better Sex Radio back on track and we missed you guys last week. If you would like to keep in touch between shows, please join our Facebook Fan Page:  http://www.Facebook.com/BlissConnection
Be sure to shop our ONLINE store at http://www.BlissConnection.com/Sexy-Toys and don't forget to use the coupon code RADIO for 15% off your purchase.
See you on the RADIO!
Oooh… and if we have time, I want to talk SQUIRTING and FEMALE EJACULATION WITH Kara. Check our her video that explains the urethral sponge and the G Spot.
http://www.youtube.com/watch?v=BZ9mmq8Py9M