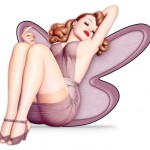 Like all great sex, our Bliss Pleasure Parties start off with some slow and sensual foreplay and we get you good and warmed up for the Power Tools!  This menu has been crafted especially for our Bliss Party tonight for our new "conju-gals" the Band of Wives. The Band of Wives is the fab group of women who work together to give each other all of the support a good wife would give a man. I believe we all need lots of wives in our lives. You know, they say that "Friends are the Family we Make For Ourselves."  Thank you to Chris, Christina, Adryenn & Joy for the opportunity to meet lots of my new "wives" tonight.
I am also a big believer that you need to LOVE YOURSELF before anyone else can love you. So, if you do not have a Valentine this weekend – be your own Valentine. Your pleasure and your orgasm is your birth right. Why not give yourself some pleasure this weekend!
BlissConnection.com  Top 25 Best Selling Romance Products.
1.  Tantric Candle – Soy based massage candle with pheromones.  Everyone looks hot by candle light!  $20
2. Books – Ultimate Guide to Fellatio & Cunnilingus by Violet Blue.  Tickle his Pickle and Ride Em Cowgirl by Sadie Allison. We also LOVE Violet's book "The Smart Girl's Guide to the G-spot"  $20 each
3.  Kama Sutra Edible Milk Chocolate Body Frosting – Kama Sutra has been in biz 41 years!  $18
4. Coochy Shave Cream – Guaranteed by BlissConnection no rash, no razor burn, no bumps.  $18
5. Kama Sutra Edible and Organic Honey Dust – 7 ways to use the Honey Dust!  $28 for the 8oz
6. Nympho's Desire Edible Arousal Cream – Try this one privately tonight!  $17
7. Blow Job / Sexy Vouchers / X-Rated Vouchers – Perfect Valentine's Day Gift. $7 each
8. Glow in the dark SEXY Dice – These dice can get any party started. Great for Long Term Relationships. $7
9.  Play Whip – Single? Never buy a drink in your life again! Take this out with you.  $7
10. Love Cuffs / Beginners Bondage –  Cuffs avail in red, purple, black, zebra. $16  Beg Bondage $30
11.  EROS! Silky, never EVER sticky, no glycerin, no fragrance, no preservatives, no flavor. GOLD!  $30
12. Penis Rings – why they are good for girls even though we typically do not have  our own penis. $6 – $42
13. The Silver Bullet :  www.StopFakingItJustHaveOne.com  13 Ways to Use the Silver Bullet.  Free, $22 or $14
14. Sensuous Love Ring – Ring and bullet all in one toy.  $26
15. CHRYSTAL's FAVORITE TOY:  $5 Speed Pulsating Bullet  $38
16. G-Spot Toys – Where is the G-Spot? Can all women ejacualte? I can't find mine. (Various toys $28 – $70.)
17. Doggy Style Strap – speaking of the G-Spot…… ask me about my Co-Ed Parties and this strap.  $25
18. Slender Sensations – Do you travel a lot? This is the toy even customs won't know. $26
19. Naughty Bod – this toy vibrates to your play list from your iPOD or by itself.  $65
20. Introduction to the birth of the ORIGINAL Rabbit Pearl by Vibratex – HONDA PARTS.  $98
21.  Rabbit Habit – O Magazine called this cordless rabbit the "Rolls Royce" of sex toys. $104
22. Pearl Thunder – GIRTHY version of the Original Rabbit Pearl  $106
23. Lelo Elise – New 2 motor rechargeable toy from Lelo.com  $125
24. Doc Johnon Rabbits – No Pearl, No Ears, One bullet for g-spot, one for clit  $80
25.  Sex Swing  $140   Home Portable Stripper Pole  $160
Our very tasteful online romance store is http://www.BlissConnection.com and we always pay the shipping on purchase over $25. Our corporate office is in San Jose and Bliss was born in April 2003, right after I got laid off from my High Tech / Corporate Job.  I have personally facilitated over 1,000 Pleasure Parties all over the Bay area.
Tonight, I have a FULL store set up in the master bedroom where you can shop privately and likely take all of your purchases home with you tonight. We do take all 4 major credit cards, checks and cash. If there are any backorders, we will ship them to you individually and our shipments always arrive very disreetly via USPS or UPS.
Blissfully, Chrystal  Tel: 408-712-3809 is my private cell. My email is blissconnnection@gmail.com
Tune in to our weekly Award Winning Radio Show called "Everyone Wants to Have Better Sex" and you can tune in as we stream live on our blog at www.BetterSexRadio.net or download our podcats from iTunes.com