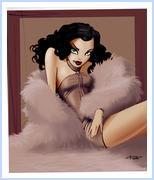 As you may know, we are still looking for some SEX TOY Bloggers for our very tasteful online sex toy store BlissConnection.com.  But, we do have some REALLY hot bloggers testing out some of our sex toys and writing blogs for us now and I wanted to share their SEX TOY REVIEW links with all of you.
First up, we have Lexi Larkspur and her IN BED sex toy blog:  http://inbedreviews.blogspot.com/2010/06/sexy-down-there.html     Lexi's reviews are awesome and we love the pics she tempts and treats us with, too.
Second up, we have the EROS FEAST and we love her rye sense of humor and her straight up style: http://erosfeast.blogspot.com/   Eros Feast adds in some commentary and info about how she uses her toys with her partner.
Next we have a Carmen who is a 40 something woman who mixes sex toy review with some down and dirty fun she's had with the sex toys :  http://www.doubledd.blog.com/   Sex Toy reviews can be naughty or nice. Carmen so far has made them super spicy and naughty.
We are looking for more SEX TOY REVIEWERS and here are the instructions for submitting your audition review to Bliss. Read our SEX TOY BLOGGER blog here.
Would love your comments here or on our Facebook Business Page:  http://www.Facebook.com/BlissConnection