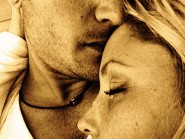 Women: Learn to love your unique orgasm through Orgasmic Meditation ( Tune in to Better Sex Radio on Wednesday June 8th at 11 a.m. Pacific time on Better Sex Radio at www.BlogTalkRadio.com/BlissRadio )
The key to better sex — and better quality of life — is better orgasm. That does not necessarily mean a faster race to the finish line or a wilder explosion when you get there. A woman's orgasm is can be bold or delicate, it can manifest itself in gushes or in waves that ripple through her whole body. Orgasmic meditation, or OM, lets you experience a different kind of orgasm, one that allows you to sink into the pleasure you're feeling right now. It can also increase your capacity for orgasm during sex and masturbation — and turn on the rest of your life.
OM is like yoga for your sex. Why else would you want to OM? — To feel closer to a partner — To enjoy orgasm if you're not in a relationship — To expand your capacity for physical sensation — To increase your supply of oxytocin, the chemical of love and well-being — To turn fast-food sex into Slow Sex — To learn how to communicate your desires in sex and in life
Slow Sex Coach Susan Kuchinskas, author of The Chemistry of Connection: How the Oxytocin Response Can Help You Find Trust, Intimacy and Love, will explain the philosophy and practice of orgasmic meditation. Tune in for a chance to win two tickets to her Orgasmic Meditation for Women Workshop and also a free couple's OM training session.
For more info on Susan and Orgasmic Meditation, visit her on Facebook or ChemistryofConnection.com.
We would also love to connect with you on Facebook or Twitter, too. Find Sex Toys and Sexy FUN on Facebook at www.Facebook.com/Blissconnection or tweet with us @blissconnection.  We love to share naughty recipes, naughty ideas and inspiration with all of our Bliss fans!
You can also download our podcasts on www.BlissoniTunes.com and we have like 2 years worth of downloads there.