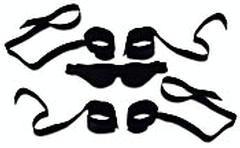 By now I'm sure you've heard about the new erotica called "50 Shades of Grey" by E.L. James that's being talked about by women all over the country. And if you haven't, it's high time to check it out! This trilogy is burning up the bestseller lists and is giving married couples a great excuse to try something a little kinkier in the bedroom! If you're ready to make fantasy your reality, Bliss Connection has sex toys and bondage gear for you that are just like the ones Christian Grey and Ana use to heat things up in the trilogy.
If you want the sex scenes in your bedroom to rival the hot scenes you've been reading about, a good starting point is a Beginner's Bondage kit. This is a great way to bring a little bondage into the bedroom, and even try some role playing. Try out a little domination – or submission, depending on what turns you on! Think about how excited your partner will be when you surprise him with this little kit. Beginner's Bondage includes four soft restraints and one blindfold – everything you need to get started. You don't even need a 4-poster bed for these restraints; you can just tie them together and slide them under the mattress. Get creative with them!
Another hot item that's a perennial favorite in kinky bedrooms is nipple clamps. Nipple stimulation can be a game-changer for men and women who like to tread that fine line between pleasure and pain. Nipple clamps also make an appearance in the "50 Shades of Grey" trilogy, and have inspired many readers to try them out at home for an extra thrill. These vibrating Wireless Nipple Arousers have jelly rubber-coated pads for comfort, but adjust so you can control the amount of pressure.
I'm a huge fan of anything that gets married couples to get creative and take risks (safely) in their sex life, and the titillating "50 Shades of Grey" trilogy has done just that. In fact, Bliss was the first to offer a 50 Shades of Grey pleasure party! For more ideas on how you can bring "50 Shades of Grey" into your bedroom with sex toys and bondage gear, check out our article on Your Tango.
Buy bondage gear from Bliss now.
If you like our style, you can also LIKE us on Facebook. www.Facebook.com/BlissConnection