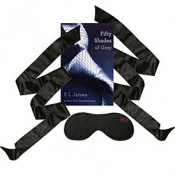 At BlissConnection.com and Better Sex Radio, we are curious as to what it is exactly that TURNED you on reading "50 Shades of Grey."  We created this anonymous survey and would love for you to pick 1 or 2 things that turned you on while reading the book.
Here is our "50 Shades of Grey" survey link:
http://survey.constantcontact.com/survey/a07e5z25n04h2sa4rvd/a00wh2se8gnc/greeting
Did you enjoy the sex scenes? Does the idea of being "handled" as aggressively as Christian Grey handles Anastasia turn you on? Do you savor the idea of playing the submissive role? (Some women describe being the submissive as a "mini vacation" from their reality. Or did you enjoy the bondage scenes? Were you a big fan of the plot or the characters?
Please pick one or two and let us know. One of the elements of the book that I loved was how often they talked about and discussed their sex life. I wish all couples could do that on a weekly or monthly basis! Communication makes for hot sex!
By the way, if you are in the San Jose Bay Area, we do "50 Shades of Grey" home pleasure parties, too. You can read more about our 50 Shades of Grey parties on our Bliss Pleasure Party website. http://www.blisspartiesinc.com/50_Shades_of_Grey.html
We have written a few other blogs about 50 Shades of Grey. This blog is all about the sex toys you read about in the books. 50 Shades of Grey Sex Toys blog. And we have another blog all about what regular people can learn from 50 Shades of Grey.  And one about the 50 Shades of Kinky where I share about a close friend of mine who had a somewhat sexless marriage until she read 50 Shades of Grey!
If you LIKE our style and our 50 Shades of Grey survey, we'd love it if you came and "LIKED" us on Facebook, too!   www.Facebook.com/BlissConnection
Was it th