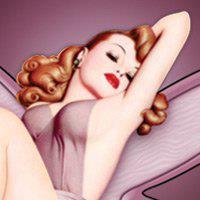 Host a Bliss Pleasure Party in San Jose
We have been having so much fun having our Bliss Pleasure Parties at our Curvy Girl Lingerie store. At Curvy, we cannot have sex toys on display and we keep those all under lock and key. But, when you book a pleasure party with us, we now have the option to have you host it here at our store in Willow Glen. (Plus, we don't want to have a sex toy store. Been there. Done that. Now, if I could open a sex toy store and could have WOMEN ONLY clientele, that would be different. But, I am trying to create a safe environment for women to shop and I know from personal experience that many women will not shop in a store that sells sex toys out in the open.)
When you book a pleasure party at our store, we set up our mobile romance store in our dressing room! But, ONLY after hours when you have a private party booked. That way our "regular" lingerie customers do not get scared off by the sex toys. You invite your friends to arrive at 6:30 after we close and we set everyone up in the back room.  But, it's all here for your pleasure party and if you and your friends are inspired by our toys and our mini bliss pleasure party presentation, then you can buy the products here on the spot and take them home with you the night of your party.
We've done three parties here so far and we have found that the best pleasure parties have about 15 women. We do have about 6 chairs. We would love for you to bring a few more so everyone can sit down and relax during our mini Bliss Pleasure Party presentation. I have been doing our Bliss Top 25 Favorites at our Pleasure Parties here at the store.
I also set up a table for you so you can bring some refreshments to share with your friends. Make it a potluck and have your friends bring what they want to share and what they want to drink. I do have a refrigerator and a microwave, too. I will supply the plastic forks, napkins, plates and cups.
All you need to do is call us at Curvy Girl 408-264-4227 and get on our calendar. Pay a $30 deposit, just like with our other pleasure parties. And then invite your friends and it's that simple.
The parties at the store seem to be about a 2.5 hour event. And, the fun part is that if you have curvy friends, they can play with the lingerie and try stuff on, too. So it's more of a lingerie and pleasure party party.
If you would like to get a feel for our toys and prices, you can see out sex toys on our very tasteful online romance store  BlissConnection.com
Give us  a call if you have any questions and we would love to help you book a pleasure party here at Curvy Girl Lingerie.
Blissfully, Chrystal Bougon Tel:  408 264 4227