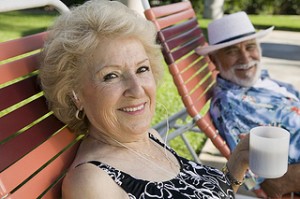 Are you afraid your lover will be offended if you ask them to try something new? Too often we avoid asking for what we really want out of fear of offending or scaring our partners. Whether you've been married to your partner for years, or you're interested in exploring something new earlier in the relationship, you shouldn't let your anxieties stop you from acting out your fantasies.
Communication is key to a healthy sexual relationship, but bringing up your desires with your partner can be scary. Make sure to be cautious of your partner's feelings. If you say something like, "Baby, our sex is so boring," he might get offended and feel like he's not satisfying you. Instead, say you love being intimate with him and find him as attractive as ever, but think it would be fun to try something different. Maybe you've always wanted to try bondage. Just be up front and say, "Why don't you tie me up? It may be fun!" If he seems hesitant, ask if he'd be willing to give it a shot once and let him know that if he doesn't like it you won't bring it up again.
Opening up about otherwise secret sexual fantasies with your partner can make sex more exciting, especially when you've been together for years. After all, there are only so many physical positions into which you can bend your bodies, but there is an endless array of mind-games you can play, or role-play. The best way to approach trying something new in the bedroom is to be excited, open and understanding. If you want to try role-play or a strip tease, surprise your partner with a little something fun. See how your partner reacts and take it from there.
Don't let your worries stop you from having a fulfilling sex life with your partner. If you've tried out a fantasy with your partner, let us know how it went. We'd love to hear from you.
If you like our style, you can also LIKE us on Facebook. www.Facebook.com/BlissConnection