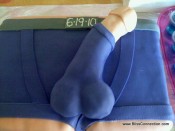 Pleasure Parties bring out the creativity that is for sure! We have seen some seriously funny party favors over the years and here are two examples of some pretty fabulous bachelorette party cakes we have seen recently at a Bliss Bridal Shower Pleasure Parties.
We love to suggest themes for our pleasure parties because we like to create parties that are extra memorable and epic! We have seen name badges made with panty liners (and I can tell you that it is very disconcerting to see panty liners on a girls' blouse), twinkies and snowballs arranged on a dinner plate to look like a penis and testicles.
One time, we did a Pleasure Party in Menlo Park and the hostesses husband was SO excited he cooked all day long for the party. He took those "lil smokey" sausages and put them on a skewer and put a mushroom cap on the tip of the skewer. He made "naughty biscotti" in the shape of penises and he also made a "stew" of sausages and meatballs. He was REALLY REALLY excited for his wife to host the pleasure party. He was adorable.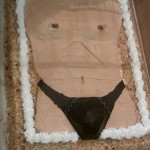 One of our favorite pleasure party favors are batteries. We saw this first at a Pleasure Party in Willow Glen. Our hostess took two aa batteries and wrapped them in bright yellow curling tape. She gave every single friend two Duracell batteries at the beginning of the party. The best part is at the end of the pary, every single guest bought atleast one vibrator! Fab.
We first learned about the Better then Sex Chocolate Cake Recipe  from a hostess here in the San Jose.  And, we always share out Bliss Naughty Cocktail Recipes with all of our Pleasure Party hostesses.
We have a link with some other Fun Ideas for a Pleasure Party on our party website. Did you know we also do co-ed pleasure parties? We love them. We also love to do our week night Fondue Pleasure Parties, too!
We would love to host a pleasure party for you and your friends. Give us a call at 408-826-9087 and we will be thrilled to host a Bliss Party for your special occasion.
Our pleasure party reviews on Yelp.